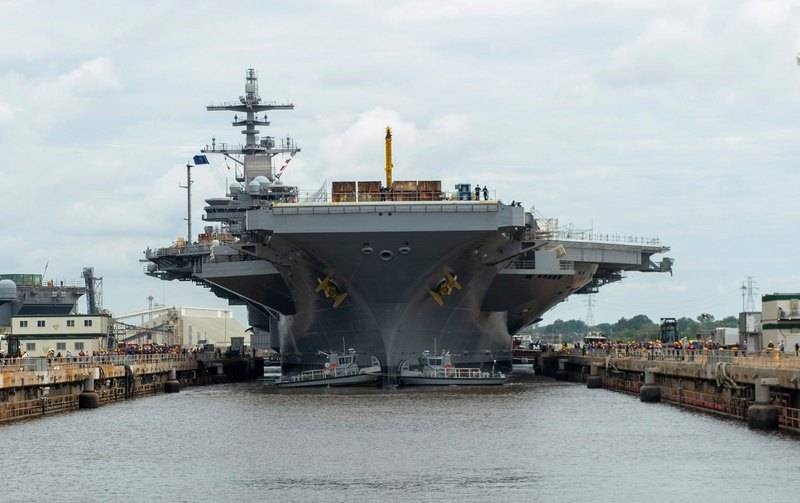 American aircraft carrier "George W. Bush." (George HW Bush CVN-77) completed the next phase of the overhaul and after 18 months in dry dock was launched. This was reported by the press service of the US Navy.
An aircraft carrier that left the dry dock until it is returned to the American
fleet
, but will continue to repair. The ship is currently undergoing final checks, after which the crew will return to the aircraft carrier.
We are now focusing on the main readiness phase of the aircraft carrier before returning it to the fleet in a "like new" condition, ready for its vital mission.
- said the manager of the shipyard "Norfolk" Captain Kai Torkelson.
The aircraft carrier George HW Bush (CVN-77) arrived at the Norfolk Naval Dockyard early last year and was drydocked on February 22, 2019 for scheduled maintenance. As the naval command said then, the repair of the ship should take 28 months, i.e. almost 2,5 years.
The command of the US Navy does not disclose exactly what work was carried out on the aircraft carrier, but with a high probability it can be argued that the ship was converted to be based on board the fifth generation F-35 fighters. In addition, work was to be carried out on the ship to recharge the reactors. Another problem of the ship that had to be fixed during the repair is the latrine. For the first time, dry closets installed on an aircraft carrier constantly broke, it was reported that 423 toilets on the aircraft carrier simultaneously failed while patrolling the Persian Gulf. Most likely, this problem was solved during the repair.
"George W. Bush." (George HW Bush CVN-77) - the tenth and last in a series aircraft carrier of the Nimitz class. It was laid on 6 of September 2003 of the year, launched on 9 of October 2006 of the year, and the 10 of January 2009 of the year was included in the fleet. The ship has undergone a significant number of improvements compared to previous project aircraft carriers.