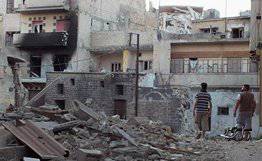 RIA News
. Representatives of the rebel "Free Syrian Army" (SSA) claim that they shot dead Russian General Vladimir Kodzhiev, who allegedly worked as an adviser to the Syrian defense minister, Al-Arabiya website reported Wednesday with reference to the SSA statement.
The message channel provides two different spellings of the names of the specified person - Kojai and Kojaiv. As evidence, the channel demonstrates his identity, reports RIA
News
.
In addition, Syrian militants claim that they killed the translator Kodzhiev, a certain Ahmed Aika (Ahmed Aiq).
Representatives of the SSA claim that they also seized maps and some documents relating to the Syrian opposition and the FSA itself.
Official comments on this information have not yet been received.