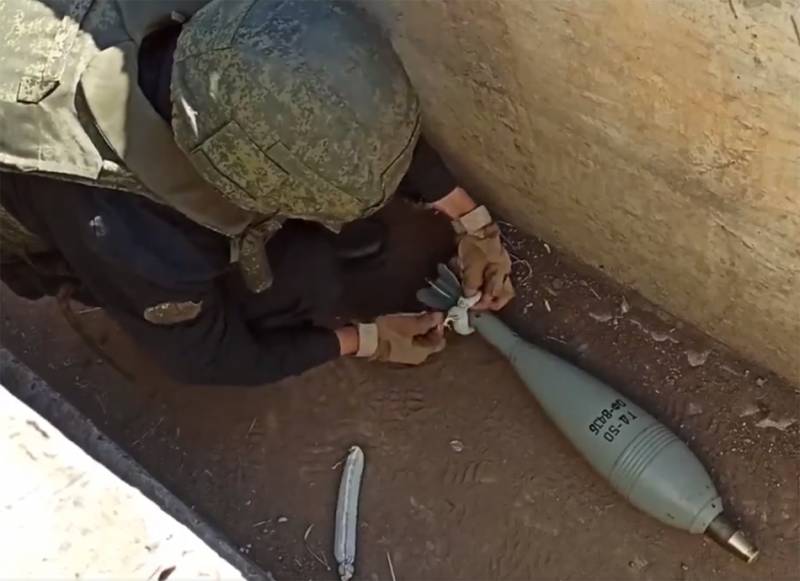 The final stage of the Army Competition "Masters of Artillery Fire" has started on the territory of the Saratov Region. We are talking about a relay program that will last for several days. The events are held within the framework of the Army 2020 forum.
Teams of military personnel from several countries, including Mongolia and Vietnam, compete, including in the accuracy of mortar crews.
The users' attention was drawn to the actions of one of the mortar crews. The video, published by the Russian defense department, shows certain manipulations by a soldier with a 120-mm mine. The participant of the competition ties the "shank" of the mines with peculiar oblong bags. He places two such bags in the area of ​​the mine shank. After that, the mine is placed in the mortar and a shot is fired.
When discussing manipulations on the network, it was suggested that these are not additional charges, but some kind of special substance that causes the smoke from the explosion to turn into a certain color, so that you can understand which particular team's ammunition hit the target or left.
From the reaction of spectators in the stands located at the training ground, it is clear that not all of the released ammunition hits the target.
Additionally, it is worth noting that during the relay race, servicemen move on trucks, which on the route must overcome various obstacles, including water.
#Video The final stage of the "Masters of Artillery Fire" "Relay" competition has started in the Saratov Region. The stage will take place in a few days https://t.co/qDPztQJlxQ #MAO #ArMI2020 #ArmyGames #Mortar #BattlePreparation pic.twitter.com/4gSh7bX5UJ

- Russian Ministry of Defense (@mod_russia) September 1, 2020