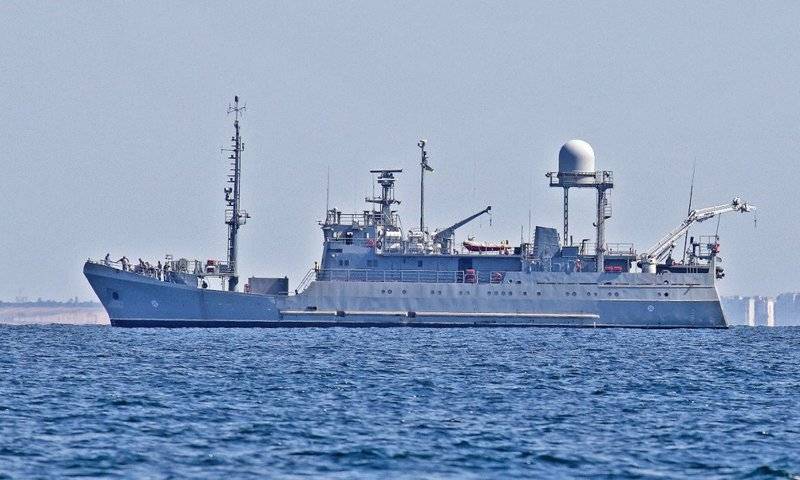 Ukraine has started the second stage of state tests of the newest medium reconnaissance ship Laguna of the Naval Forces (Naval Forces). The ship sailed into the Black Sea, Defense Express reports.
As the newspaper notes, this is the second independent exit of the TFR to the sea since arriving in Odessa, where the ship was being completed after arriving from Kiev, where it was built at PJSC Kuznitsa na Rybalskoy (formerly Leninskaya Kuznitsa). The base for the reconnaissance ship was the hull of the trawler project 502EM "Eget" from the plant's backlog. In 1971 - 2009, 347 trawlers of this type were built in Kiev, five more hulls remained unfinished at the enterprise, one of which served as the basis.
The launch of the ship was carried out on April 23, 2019, after which the ship was completed afloat. In early October of the same year, the TFR was sent to Odessa for additional equipment. The Laguna was delivered via a floating dock.
According to the newspaper, the newest Ukrainian radio-technical intelligence station "Melchior" has been installed at the TFR, which operates exclusively in passive radar mode, analyzing the radio frequency spectrum emitted by ships, aircraft or coastal objects. The complex consists of an antenna post and two operator workstations. There is no other data on the "stuffing" of "Laguna".
"Melchior" was developed on the basis of the ship's multifunctional radar complex "Mineral", which has been produced in various modifications by the Ukrainian enterprise "Kvant" since Soviet times.
The declared characteristics (correspond to the trawler of project 502EM): the length of the ship is 55 meters, the width is 10 meters, the displacement is 1220 tons. Speed ​​- 11,6 knots (Laguna's speed may be higher). Cruising range 7200 miles, autonomy 28 days.