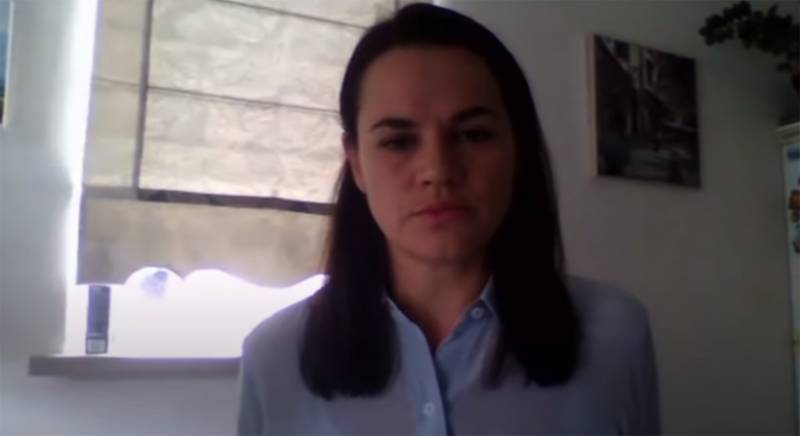 Svetlana Tikhanovskaya, who recently called herself "the national leader of Belarus", is more and more reminiscent of a kind of copy of Venezuelan Juan Guaidó. Recall that at one time he also lost the elections, then gathered, not without foreign support, a protest movement, proclaimed himself on the street as the "legitimate president of the country", and then began "touring" the world, including the United States, where he presented himself as the "president of Venezuela ". Now Guaidó's activity has dropped significantly, as have protests in Venezuela against President Nicolas Maduro.
How does Ms. Tikhanovskaya remind Guaido? In fact, many. Having declared herself a "national leader," Tikhanovskaya also established active contacts with foreign politicians, trying to gain support. True, we must pay tribute - at least Guaido did not leave Venezuela immediately after the elections ... Tikhanovskaya, as you know, left for Lithuania, and it was there that she suddenly came up (hardly herself) to declare herself "the national leader of Belarus." The day before, she met with the Deputy Head of the US State Department. And today the losing candidate spoke to the European parliamentarians, talking about "shocked Belarus" in the format of a videoconference.
Tikhanovskaya:
My country is shocked. She is in deep crisis. Peaceful demonstrators are beaten and arrested. The authorities use tactics of intimidation and physical threats. They try to keep people at bay. Already at least six people have been killed, dozens are missing. And all this is in the center of Europe.
Hinting at herself, Tikhanovskaya said that "many were forced to leave Belarus, fearing for their lives."
In her monologue, Tikhanovskaya, addressing the MEP, asked those to assist in holding "new elections that will be honest and transparent" in Belarus. According to Tikhanovskaya, Belarus embarked on a non-violent revolution.
Further, the ex-presidential candidate of the Republic of Belarus told the European parliamentarians about the creation of a "coordination council" headed by the Nobel laureate Svetlana Aleksievich.
Tikhanovskaya:
Now we are not the opposition, we are the majority. And we won't give up.