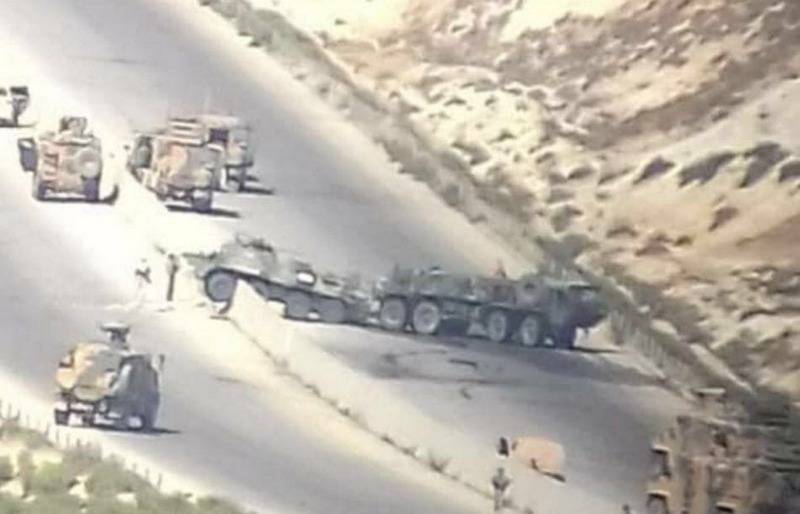 The situation in the Syrian province of Idlib is heating up, the militants are making efforts to destabilize. According to the Russian Center for the Reconciliation of Warring Parties (CPVR), the militants once again fired at a Russian-Turkish patrol, damaging the Russian armored personnel carrier.
A Russian-Turkish patrol was reportedly fired on from a grenade launcher while patrolling a section of the M4 highway in Idlib province. As a result of the shot, an armored personnel carrier of the Russian military was damaged, two servicemen received light concussions. The Russian servicemen received assistance on the spot, their condition is satisfactory, and patrolling has been stopped. The damaged armored personnel carrier was evacuated to the base.
During the 23rd joint Russian-Turkish patrol of the M-4 highway in the area of ​​the settlement of Urum-El-Jauz in the southern part of the Idlib de-escalation zone, the patrol column was fired upon from a hand-held anti-tank grenade launcher
- said in a statement.
As reported by the Voenniy Informant telegram channel, the patrol was attacked by militants of the Kataib Khattab al-Shishani group, which mainly includes Chechen militants.
Note that this is not the first attack on Russian servicemen in the province of Idlib, where Turkey is allegedly responsible for order, which has repeatedly promised to restore it.