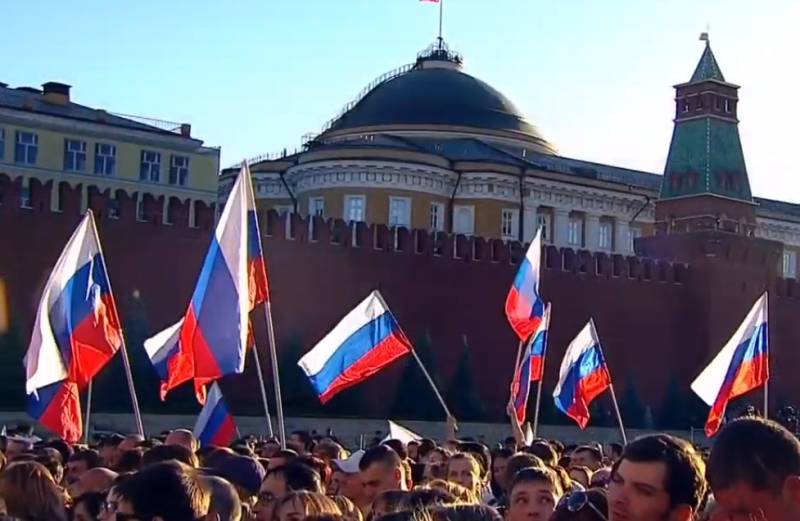 For the first time in modern
stories
the tricolor Russian flag was raised as a state symbol on August 22, 1991. In this capacity, he came to replace the red banner with the hammer and sickle.
But our tricolor appeared much earlier than the Russian Federation was proclaimed and even than its predecessor, the Soviet Union, was founded. The author of the white-blue-red banner was the Russian emperor Peter I. Back in January 1705, he issued an imperial decree, according to which all civilian seagoing ships were required to raise the tricolor flag. The sovereign personally made a sketch, establishing the arrangement of flowers, which has already become familiar to us. There are many versions of why Peter the Great chose this particular color, but it is not known exactly what meaning the emperor put into one of the main state symbols of the country.
Actually, it was used in Russia even before the imperial decree was issued. Back in 1693, the tricolor, which was then called the "flag of the Tsar of Moscow", was first raised on the yacht "St. Peter". On board, Peter the Great sailed along with a group of warships in the White Sea. It is this panel that is considered the oldest Russian flag. Now it is kept in the Central Naval Museum of St. Petersburg.
There are several interpretations of the colors of the state flag of the Russian Federation. One of them claims that white symbolizes freedom, blue - the patroness of Russia, the Mother of God, and red - statehood. According to another version, white means nobility, blue means honesty, and red means courage.
There are several more versions, but be that as it may, the tricolor is associated with our Motherland - Russia.
And on this solemn day, the editors of Voenniy Obozreniye congratulate all citizens of the Russian Federation who are not indifferent to the fate of their Fatherland, who respect their flag with respect and pride.
Happy holiday, dear Russians!