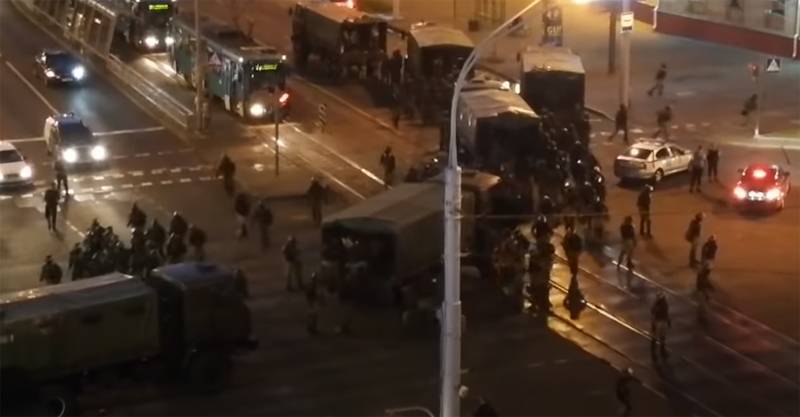 The Western press continues to openly escalate events in Belarus. At the same time, some publications, as they say, by the ears are drawn to the topic of the allegedly Russian military-police presence in the republic. For example, the German tabloid Bild, which has long turned into a mouthpiece for Russophobia, follows this path.
The German website, with reference, of course, to unnamed sources in Berlin and Moscow, states that "the OMON bases in Moscow and St. Petersburg are practically empty." The German author writes that this is "indirect evidence that Russian riot police were sent to Belarus." The same portal writes that some witnesses "noticed the columns of trucks of the Russian Ministry of Internal Affairs in the Smolensk region - moving along the road towards Belarus."
Earlier, a fake about the alleged armored personnel carrier of the Russian Armed Forces in Belarus was actively disseminated in the Western press. It turned out that we are talking about the armored vehicles of the Belarusian army on Belarusian territory. However, none of the foreign resources that disseminated this misinformation did not bother to offer any apologies. This can only say one thing: fakes are spread deliberately.
It is necessary to add about the publication in another German media outlet - Deutsche Welle - with reference to the "investigation" of the CIT group. "Investigators" said that 80 km from the Belarusian border "they saw the same trucks of the Ministry of Internal Affairs of the Russian Federation, which at one time were attracted for use at mass rallies in Moscow."
And all this is published by the Western media against the background of the fact that even activists of the Belarusian opposition (for example, Maria Kolesnikova) have expressed that they do not believe in the military and police intervention of Russia in the affairs of Belarus.