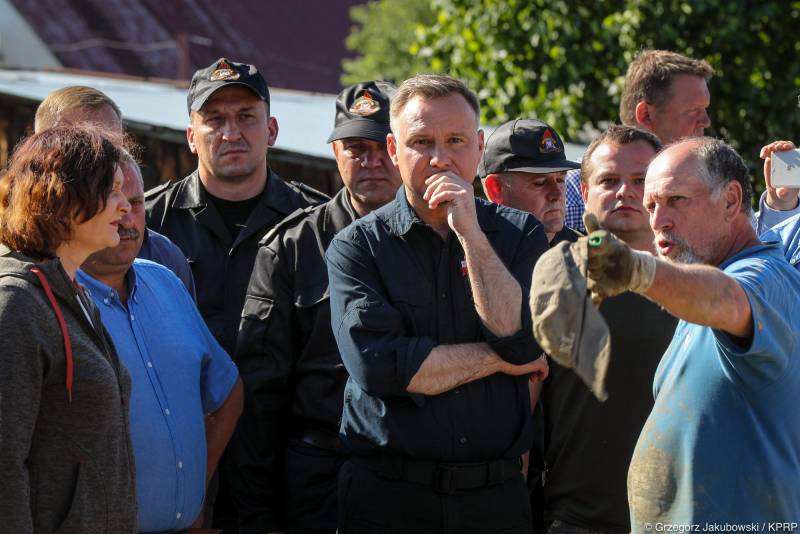 Photo: Facebook / Zzegorz Jakubowski (Office of the President of Poland)
When people talk about the economies of the countries of the former socialist camp, they usually cite Poland as an example of special economic success. An example is usually the GDP growth in Poland, which the country has been demonstrating since 1991. In some years (1997, 2007), the growth of Polish GDP exceeded 7%. In 2018, Poland's GDP grew by over 5 percent.
However, in giving such examples, many economic experts were outright sly. The deceit consisted at least in the fact that in this case the statistics on credit influences on the part of the European Union were usually ignored. Moreover, Poland, by and large, began to pay off its debts on loans only in 2019.
The need to pay off loans against the background of obtaining new loans from the European Union "money box" led to the fact that the Polish budget deficit reached a record high in recent years. Today, the major Polish press writes that amendments had to be made to the budget already approved for 2020. The deficit approached 110 billion zlotys ($ 30 billion). And this is against the background of the fact that the budget was initially set up with an eye to zero deficit. There is something wrong with the Polish "economic miracle" ...
To justify the growing economic hole, the Polish government is blaming the pandemic for everything. However, the pandemic only exposed those problems, the solution of which the Polish authorities preferred to postpone, hoping that they "will always help to solve the EU partners.
At the same time, the Polish government continues to draw relatively positive forecasts, stating that employment by the end of 2020 will "fall slightly" - by 2,4%, and GDP will decrease not by 8,9%, as was announced by Western analysts, but "only by 4,6 , 3,3% ". Inflation in Poland is expected at 2,3% instead of 2,5% a year earlier and the forecasted XNUMX%.
How to pay on loans?
The representatives of the economic bloc of the Polish government prefer not to answer this question. Apparently, they again hope that Germany will give a loan at a sparing interest rate in order to pay off debts on past loans. But even if Germany gives the money again, the Polish budget deficit will only continue to grow.
However, the Polish authorities in recent days have shown much more informational activity in relation to neighboring Belarus, and not in relation to the growing heap of their own economic problems.