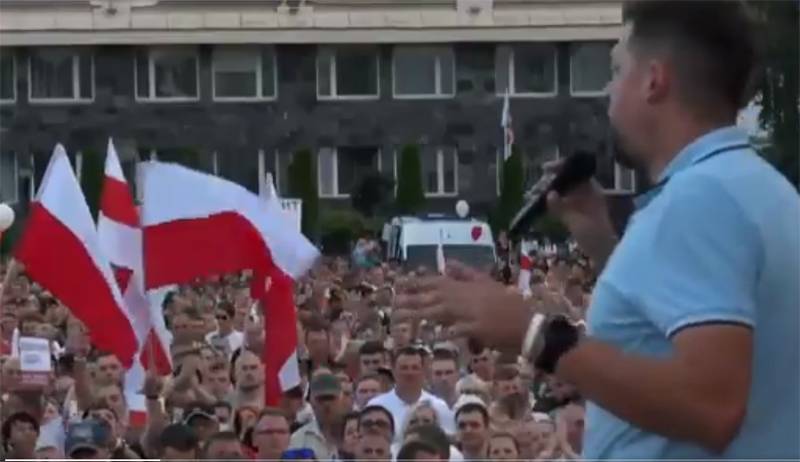 Protest actions continue in Belarus, during which at the moment there is actually the only demand: the resignation of Alexander Lukashenko from the presidency of the country.
Numerous Belarusian political scientists, including those who act as guests of the air of political talk shows in Russia, constantly say that the protesters do not oppose the Russian Federation, that their actions are aimed solely at ensuring that a "transit of power" occurs in Belarus that no one is going to repeat what happened on the Ukrainian Maidan, and that Belarusians will not tolerate any foreign interference.
Against this background, the footage from the rally in Grodno attracted attention. Next to the white-red-white flags, which suddenly appeared in abundance among the protesters throughout Belarus, were also seen the red-white flags of Poland. They were actively waving them in the crowd against the background of the statements of the speakers that "the Belarusian people will determine their future by themselves".
Flags of Poland at a protest in Grodno pic.twitter.com/N348inH30i

- Volodin-Topwar (@VolodinTopwar) August 20
Let us remind you that the day before the leaders of the EU countries unanimously refused to recognize the victory of Alexander Lukashenko in the last elections. The most active support for the protesters and strikers is provided from Poland and Lithuania. In Lithuania, the authorities decided to ban the entry into the country of Alexander Lukashenko.
The activists did not comment on the appearance of Polish flags at the protest rally in Grodno. At the moment this fact was ignored in the EU as well. One can imagine how violent the reaction of the same European Union would be if a Russian tricolor appeared at any mass action in Belarus.