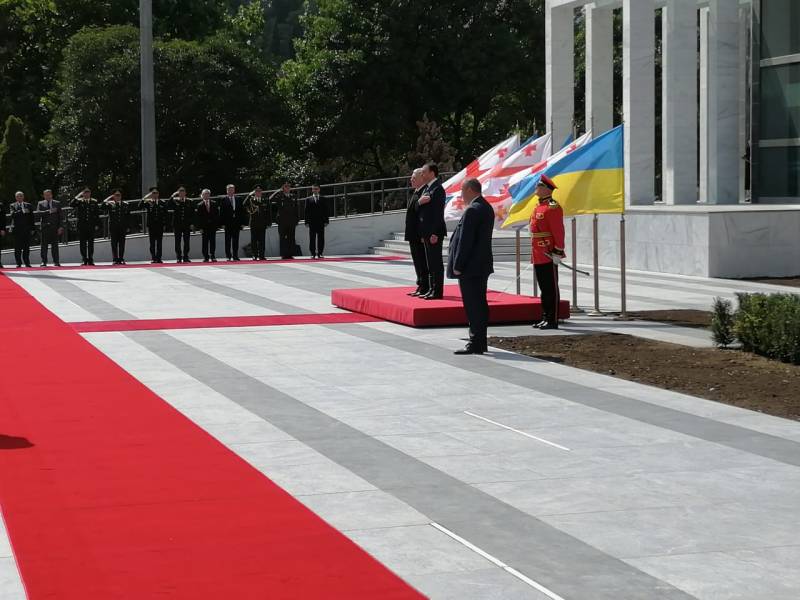 Defense Minister of Ukraine Andriy Taran is visiting Georgia. It is not difficult to guess what the main topic of his communication with his Georgian counterpart Irakli Garibashvili was.
This theme is "Russian occupation". And this phrase turned out to be the most actively used during a joint briefing by the heads of the military departments of the two countries, diligently demonstrating their "readiness" to join NATO.
Ram:
One of the common challenges for Ukraine and Georgia is the restoration of the territorial integrity of our states and the liberation of the territories occupied by Russia. This is the goal of our strategic partnership, one of the main elements of which is cooperation in the field of security and defense.
According to the Ukrainian Defense Minister, this is his first visit to Georgia in his current position. Taran added that he is "very pleased with the fact that he is taking it to a friendly state." Apparently, for some time now in Ukraine, only those who sent buns or snipers to the Maidan are considered "friendly" states. Recall that some time ago it was the citizens of Georgia who admitted the fact of their participation in the shooting in the center of Kiev in February 2014.
Georgian Minister Garibashvili said that together with Ukraine "a line is being built to ensure peace and security in the Azov-Black Sea region."
Interestingly, and the provocation, arranged earlier by Poroshenko with an attempt to break through the Russian sea border in the area of ​​the Crimean bridge, was also among the measures to "ensure peace and security"?
A video from the Georgian Ministry of Defense was presented, where the heads of the military departments communicate through an interpreter. Diligently pretending that they do not speak Russian? At the same time, the part where the exchange of remarks took place in Russian was decided not to be inserted into the material:
Additionally, the Georgian Ministry of Defense also disabled comments on the video about the meeting of the two ministers.