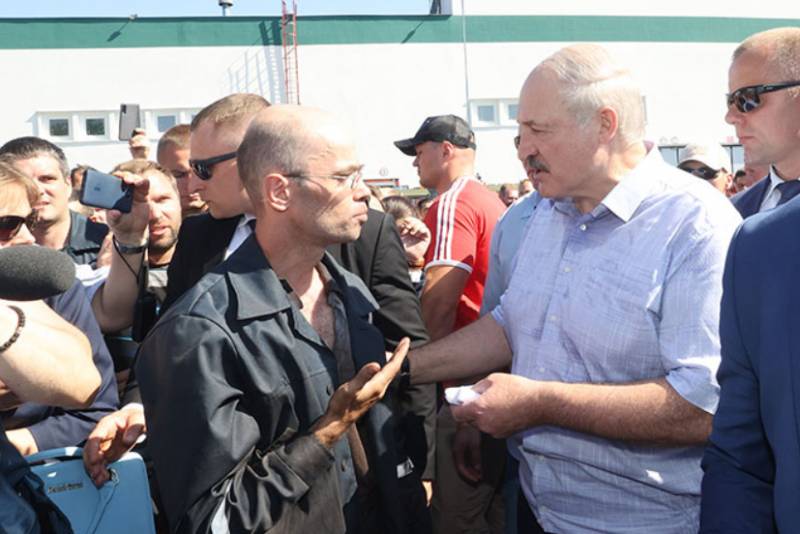 A statement made by Alyaksandr Lukashenka during yesterday's meeting with the workers of the Minsk Wheel Tractor Plant is being discussed. According to Lukashenka, the demands for re-elections, recount of votes do not come from the assembled workers, but "from above".
The President of the Republic of Belarus noted that the work collectives are also going to be used to create the so-called lantsug (human chain), which will receive the format of a "cordon sanitaire" between Europe and the Russian Federation. Earlier, Lukashenka has already stated that he is not going to "sanitize" this way.
When communicating with the workers of the MZKT, the President of the Republic of Belarus said literally the following:
You will still be put in this lance, like a cordon from Vilnius to Kiev - a cordon between Russia and the West. Consider that against Russia. Do you want Russia to react too? I do not want.
What kind of reaction of the Russian Federation Lukashenko was talking about, he did not explain.
Thus, Lukashenka has already mentioned almost all of Belarus's neighbors, but at the same time continues to ignore the main thing - the problem was originally created within the republic, and the notorious multi-vector Lukashenka himself could lead to its creation. Then he suddenly calls Russia a "partner" and not an ally, then suddenly remembers the existence of the Union State. Now, in fact, Russia is also trying to intimidate the striking workers.
After that, the President of the Republic of Belarus invited the labor collectives to meet in January and discuss further ways of developing Belarus.
Let us remind you that if initially Lukashenka was categorically against the new elections, then later he began to talk about the possibility of holding them - "after the adoption of a new version of the Constitution."
Experts note that Alexander Lukashenko began to contradict himself more and more often. One gets the feeling that he no longer knows what kind of electorate he can rely on.
Protest actions continued in Minsk and other cities of the republic yesterday. The protesters demanded the release of all those detained during the rallies, chanting "Let go!"