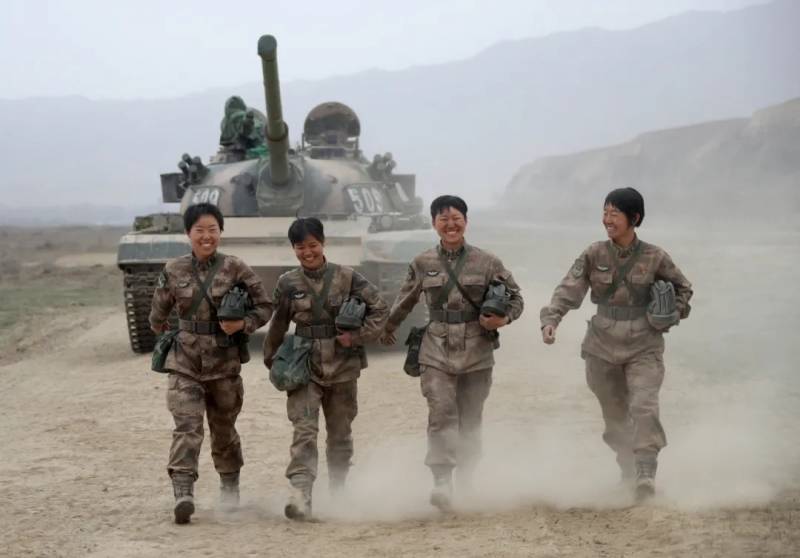 Judging by the numerous comments of supporters of "gender inequality" in military life, in Russia, among the "strong half of humanity", a negative approach to attracting women to military service prevails.
For example, negative reviews are constantly expressed about the relatively recent beginning of admission to the flight school of girls. So, commenting on the material published on "Voennoye Obozreniye" "For the first time in
stories
Russian girls will become cadets of the aviation school "it was stated:
The first thing we do is ruin the planes ... (user Alexei).
The "weaker sex" also contributed:
An acquaintance of mine served as a private, it seems, in the Air Defense Forces. She confessed to me frankly that she was going to the army of her husband to find (Tatyana).
At the same time, the Chinese media posted a whole selection of photographs depicting the combat everyday life of the crew, consisting entirely of women. A crew of four girls serves on MBT ZTZ88A from the 8th Combined Arms Division in Xinjiang.
Many people think that girls are not suitable for the position of commander.
tank
detachments. It takes more effort to break this idea than men.
- explains Sergeant Shi Shi.
As long as you are on the battlefield, it doesn't matter if you are a man or a woman. I want to prove that girls can be on the battlefield too
- says Huanghai Xiang.
When the instructors taught us the basics of movement and loading, they asked me in advance if you could handle this? I myself realized that my hands were weak, and it was really hard for me
- says Hu Yanli, explaining that he had to train for a long time and gain excess weight.
They proved by their actions: women are better than men!
- writes the publication China Military, summing up the emancipation in Chinese.