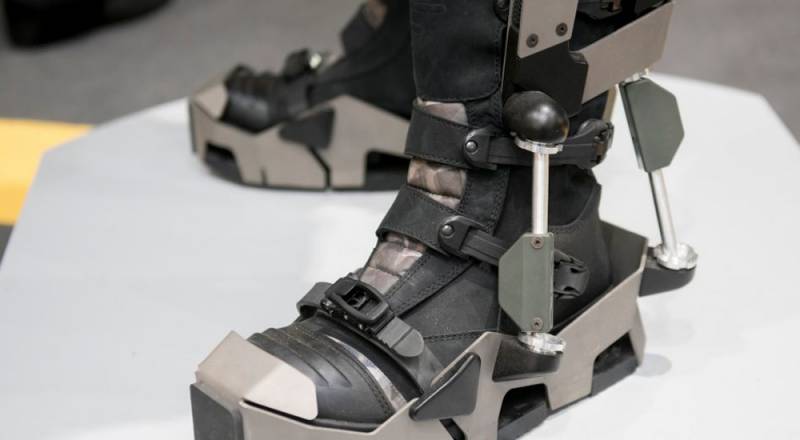 Earlier, Rostec announced that Russia is working on a new generation of equipment for military personnel - a promising modification of the Ratnik, called Sotnik. This information attracted the attention of not only domestic, but also foreign experts. In the Western media, the term chosen for the promising equipment of a soldier of the Russian army was translated as "Centurion", discussing its characteristics and potential capabilities.
They are discussing the innovations that will be inherent in the "Sotnik", according to plans, capable of being in the army by 2025.
The equipment will differ in a number of elements, including the possibility of automated control of a miniature drone. In fact, we can talk about an analogue of the American microdron, which is being tested today, including in American units on Afghan territory. Such drones are equipped with cameras, including night vision cameras, and transmit to the soldier's tablet a "picture" with the situation within a radius of up to 200 m. Microdrones can be effective, for example, in urban areas, "informing" the tactical link about the location of the enemy (for example, terrorists) in this or that building.
In the case of the Russian "Sotnik", the image from the mini-drone is planned to be transferred not to a tablet, but to special glasses, which will also become part of the equipment of a special forces soldier. For obvious reasons, this is much more convenient, plus it saves time when analyzing information received from UAV cameras.
It was noted that the special glasses of the "Sotnik" will be able to receive and exchange other data - for example, maps of the area, with marks on targets detected by the same drone. That is, one drone distributes data to all military personnel of the link.
An important difference between the new generation of Russian equipment for the RF Armed Forces is an electrically controlled material with a "chameleon" function from Ruselectronics. The material, as already clear from its characteristics, is capable of changing its color depending on the environment. The US appreciated the Russian approach to the implementation of such material, noting that the capabilities of the "chameleon" for the military in Russia were demonstrated 2 years ago. Indeed, a helmet with the implemented chameleon technology was demonstrated during the Army-2018 exhibition.
The "Centurion's" suit is going to be made using infrared stealth technology. In other words, the enemy will not be able to identify the fighter using classic thermal imagers and infrared sensors.
Earlier it was reported that the "Centurion" will receive mine boots, as well as a system for tracking the state of the soldier. The system can transmit data on how the fighter is feeling, for example, by monitoring the heart rate and breathing rate. Experts in the United States note that the Pentagon is also conducting work of a similar nature, which may ultimately reduce the time it takes to evacuate a wounded soldier from the battlefield or the territory of a special operation.