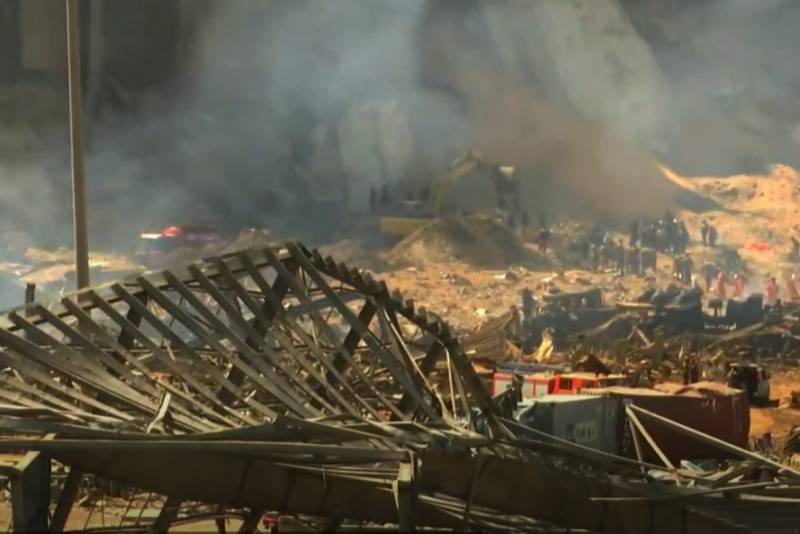 The explosion in the port of Beirut could be the last straw that overflowed the patience of the Lebanese citizens due to the sharp deterioration of the economic situation in the country. The fact is that even before the explosion, the Lebanese economy rushed downward. Now the country may face a real humanitarian disaster, as Lebanon imported up to 85 goods through the port of Beirut. According to the latest data, foodstuffs, including cereals, remain in the country for no more than 3 weeks.
Against this background, protests against the current authorities erupted in Beirut and other major cities of 7 million Lebanon.
The protesters clashed with the police. Stones and debris of concrete structures, which were the result of the very explosion, are flying into the guards of law and order. In response, the police use smoke bombs and tear gas grenades.
So far, the protests cannot be called massive, but there is a real danger that Lebanon could indeed plunge into chaos.
As already noted, the explosion has already resulted in a loss of 27-28 percent of the country's GDP, which is $ 15 billion. This is in addition to the loss of at least 12% as a result of the pandemic. If the delivery of goods to the country is not established, the fall may worsen. At the same time, the Lebanese authorities have already admitted that they cannot cope with the crisis on their own. The European Union has decided to allocate 33 million euros to Lebanon, but this is clearly too little to solve even the primary problems associated with the elimination of the consequences of a powerful explosion.
Experts believe that now both Western countries, which will try to reduce the influence of Iran and Hezbollah, and radical Islamists, who can further reduce the role of the Christian population in Lebanon's life, can go to the intervention.