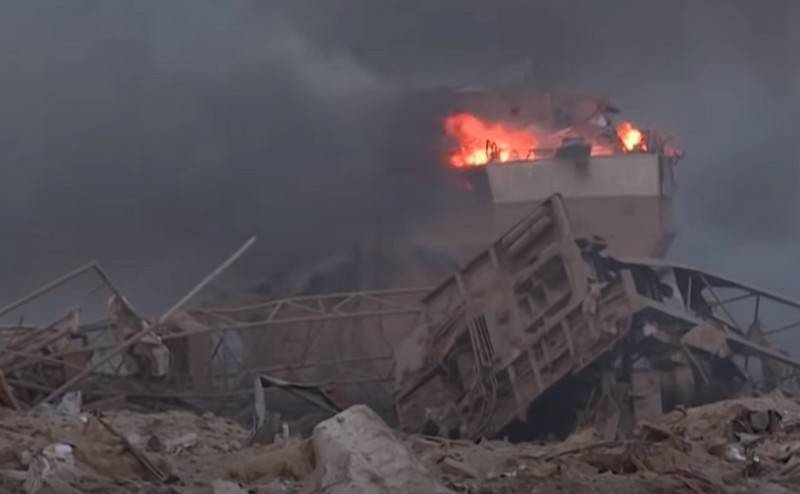 More than a hundred people were killed in the explosion in Beirut, the number of those who received various injuries exceeded 4 thousand people. Such data was provided by the Lebanese Red Cross Society, according to Sky News Arabia.
The number of victims of the explosion in Beirut has exceeded one hundred people, 78 were previously reported. According to local media reports, this data is not the latest, the death toll may still increase. City hospitals are overcrowded with wounded, the injured are sent to medical facilities in the vicinity of the city.
Numerous destruction of buildings near the port where the explosion took place has been reported. The buildings of the embassies of Russia and Finland were damaged. Beirut has been declared a disaster zone, and a state of emergency has been introduced in the city.
According to the latest data, the cause of the explosion, equivalent in power to an earthquake of magnitude 4,5, was the detonation of 2,7 thousand tons of ammonium nitrate confiscated by the customs services in 2015, stored in a warehouse. Other proposals are also expressed, such as: explosion of a cargo of explosive substances, an Israeli Air Force missile attack on the warehouse of the radical movement Hezbollah (denied by Israel), explosion of a ship with pyrotechnics or a warehouse with pyrotechnics, explosion of a bomb during an attack (US version).
Against this background, it became known that the Russian Emergencies Ministry will deploy a mobile hospital with doctors in Beirut to provide assistance to victims of the explosion. In total, five military transport aircraft will go to Lebanon.
The Russian Emergencies Ministry planes will send a mobile hospital, doctors, rescuers of Tsentrospas, Rospotrebnadzor specialists with a laboratory to detect a new coronavirus infection
- says the message of the Ministry of Emergencies.