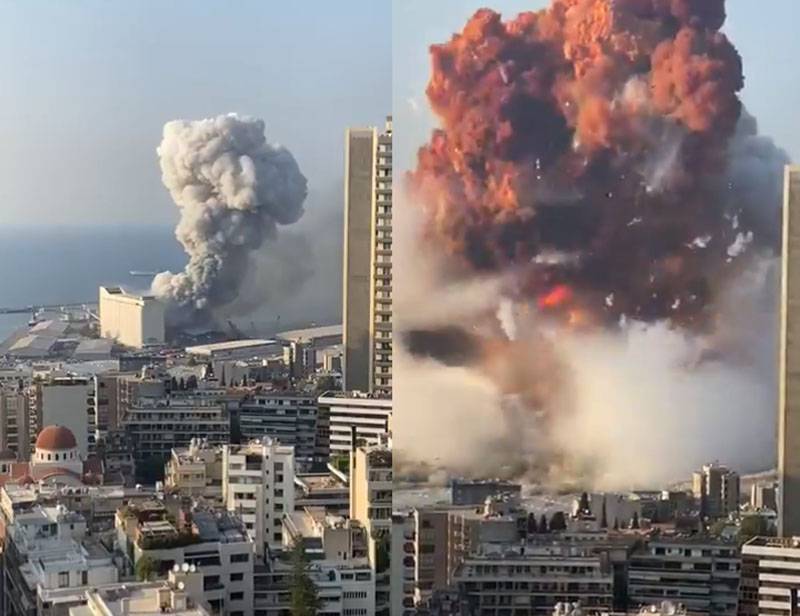 The network is discussing footage of a terrible explosion that today shook the Lebanese capital Beirut. It happened in the port of the city.
The footage shows how first a column of gray smoke appears, after which an explosion of enormous force is heard.
The blast wave from it blows a lot hundreds of meters from the epicenter.
In this case, at the first stage of the explosion, red-orange "tongues" are visible. An explosion literally turns a building in the immediate vicinity into dust.
BREAKING:
Massive explosion rocks Lebanon capital Beirut, cause unknown.#Beirut pic.twitter.com/ya0saoZZ7n

- Sheetal Pratap Singh (@SheetalPratapS) August 4
Deeply shocked with the visuals of massive explosion in Beirut, Lebanon.

Thoughts and prayers with the people of Lebanon. #Beirut pic.twitter.com/9VWvsreXKo

- Marabin Oli (@OliMarabin) August 4
Above the port, a white-gray explosion mushroom was visible.
Filming after the explosion captured the port area of ​​Beirut, which has been reduced to rubble. Debris of structures, metal and concrete fragments are visible on the streets of the city. The frames show buildings, from which only reinforced concrete skeletons remained.
This looks like the end of the world in Lebanon.

Shocking first video emerges after #Beirut explosion.pic.twitter.com/pHy3iUIGar

- Ahmer Khan (@ahmermkhan) August 4
Fire brigades, ambulance brigades and rescuers are drawn to the scene. At the moment, there is no exact information about the cause of such a powerful explosion, or the number of victims. At the same time, Lebanese Minister of Health Hamad Hassan said that as a result of the explosion, hundreds of people were injured, including serious ones. However, it can be assumed that with such a force of the explosion, unfortunately, it was not without casualties.