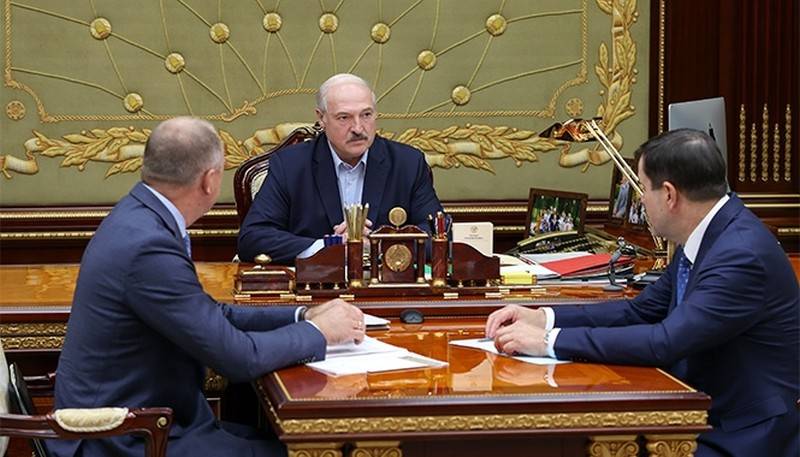 In fact, the analysis here is such a thing ... It is very difficult to subject the processes that have been launched in Belarus to analysis, to put it mildly, without adequate grounds.
If you thought I was talking about 33 Russian "mercenaries" again, alas, no. Everything is much more complicated.
To begin with, I would like to voice only one question: what did Lukashenka lack for a quiet re-election for a new / next term?
The answer will be eerily simple: NOTHING!
The seemingly democratic (in fact, not very) Republic of Belarus in fact looks more and more like the most elementary post-Soviet totalitarian state. And nothing special differs from those criticized for the lack of visible (and invisible) democracy of authoritarian regimes of the same Kazakhstan, Uzbekistan, Turkmenistan. The same authoritarianism, even more abruptly, Lukashenka will be in power more than others.
Accordingly, the set of actions is the same. The exclusion from the elections of those who can even theoretically compete with the incumbent president - and, in fact, the job is done. And as a "control shot" the Russian theme "Vote, or you will lose" (some scarecrow is presented as an enemy).
And yet. For some reason, everything went according to a completely different scenario. Although in an amicable way Lukashenka did not have to do absolutely anything, everything would have happened as it was in the previous elections. And with the same expected result.
In fact, the actual competitors Tikhanovsky, Babariko and Tsepkalo, who were arrested, could hardly have been serious competitors. Nevertheless, for some reason it was necessary to arrange all this show with arrests, searches and other miracles in the sieve. Of course, the 100 Belarusian rubles confiscated from Babariko from the electoral fund is a significant aid to the budget.
However, for some reason the people did not appreciate all this fuss. And he went to the protest actions. "Actions of Solidarity". And it would be worth avoiding all this, because this is the essence of the former Soviet society: the quieter everything around, the easier it is to arrange any outrages in the elections. Proven by Russia, Ukraine and Belarus.
As a result, an interesting situation is developing in Belarus: while Tikhanovskaya (by the way, a number of her employees and her husband-blogger are also "that one") gathers thousands of people at support rallies, Lukashenka is increasingly communicating in closed halls with security officials.
Well, there is a frankly disastrous "opening" of the nuclear power plant, which did not take place solely because Mr. Lukashenko began to allow himself too much in terms of words.
And these words are heard not only in Belarus, but also in Russia ... And this is the main problem.
By the way (from the experience of personal communication) Belarusians are for the most part not only cultured, but also smart people. And many understand that the current state of the economy is not the most deplorable, largely thanks to the Russian market. Well, they don't cry in Europe for Belarusian sausage, milk, cheese and sour cream. His - above the roof. But in Russia they use it with visible pleasure, albeit today and not in the same quantities as five years ago.
The ability to sell your product quickly and for money is, you know, a very pleasant component of the economy of any country. And considering that Belarus has neither oil nor gas, good relations with Russia, which can (I emphasize, maybe, but is not obliged) to provide energy pumping to Belarus, is a very useful matter.
Loans, discounts on oil and gas, an open market for all Belarusian food, even for the products of the Belarusian fishing
fleet
- this is all very useful.
So the majority, which is still silent, but which the politicians in opposition to Lukashenka are talking about so actively, are just "ours", that is, pro-Russian-minded Belarusians. And they just observe not the most interesting picture in their yard.
In order for this part of the electorate to come to the polls and vote for Lukashenka, it was simply necessary not to allow attacks on Russia. And that's all. The deed would be done.
It cannot be said that Putin is somehow trying to "pressure" or "educate" Lukashenko. This is neither observed nor seen even with an optical sight.
Lukashenka's invitation to the Victory celebrations, to the unveiling of a monument in Rzhev, even to the opening of the nuclear power plant, Putin was going to come in person. And this rarely happens in our time for Putin to go somewhere.
But what Lukashenka arranged does not fit into the normal outline a little.
A completely senseless and inadequate, in fact, raider seizure of Belgazprombank, the Belarusian representative office of Gazprombank.
In "Belgazprombank" Lukashenko ordered to find millions of dollars for the "Maidan". By the way, they would have found a bank that is not poor at all. The situation had to be settled by the head of Gazprom Miller and the head of the Central Bank Nabiullina. They tried to reason with Lukashenka, who was out of joke, who, they say, during the conversation, threatened to nationalize the bank.
Not everything is clear with Belgazprombank. The bank seems to be working, but the situation is very similar to a raider takeover. 15 people from among the leaders of the BGBPB were arrested, many accounts were blocked.
The bottom line is clear, after all, the bank's assets are estimated at $ 3 billion, and that kind of money does not lie on the ground in Belarus. Moreover, since you can blame everything on "Russia's interference", and at the same time squeeze Babariko, who, although he left the bank, nevertheless.
And eat the fish, as they say ... And remove the competitor, otherwise the former banker Viktor Babariko began to collect signatures for his participation in the elections, and beat a little money as compensation.
But in the territory of the Republic of Belarus there is also a subsidiary branch of Sberbank itself, BPS-Sberbank. Also nothing a piece, right?
The situation with the Belarusian nuclear power plant. There, too, everything is somewhat incomprehensible. It is just as unclear why Lukashenka needed to declare that there were no nuclear engineers left in Russia and that Putin himself (!) Asked Lukashenka for Belarusians. Some kind of very much collective farm PR and boast. Yes, we have huge problems with education, but neither MEPhI (aka NRNU, National Research Nuclear University), nor MIPT seem to be closed and specialists are still being trained. Our nuclear power plants are working, which means there is order with personnel.
And why then Lukashenka's "golden" engineers will not finish fine-tuning the nuclear power plant? The launch dates of which are postponed, reminiscent of the start of our "Angara". Or commissioning a destroyer.
"We ourselves can do everything" is, of course, good. But words must be backed up by deeds, but Lukashenka is not doing very well with this.
Well, the cherry on the cake - the arrest of 33 Russians. Moreover, with the prospect of extraditing some former Ukrainian citizens back to their former homeland. In general, a separate conversation should be started about this, about ethics and morality, but if we do, then not now.
Even in Russia, opinions were divided, even on our pages. Some people think that Lukashenka is absolutely right, because there is no point in driving around soberly in crowds. Some people think that Lukashenka is very good, and it was Makei who set him up.
But then there is a claim to Lukashenka, what, excuse me, the devil did he appoint to such a post as the head of his administration, such a complete Russophobe? Or is it also the intrigues of someone from the outside?
And than. Why bother fanning such nonsense at all? About 200 mercenaries who planned to arrange something there before / during the elections? Find and arrest 33 Russians, but what about the rest? Where and in what basements are 167 more people hiding? And, apparently, these are very dangerous and experienced personalities, because "all the royal cavalry" cannot find them yet.
No charges have been brought yet, except that these 33 heroes caused damage to Belarus without drinking a single gram, and Lukashenka has already begun to make such statements that the ears of normal people were twisted in surprise.
All this tub of reproaches and accusations towards Russia, stupid and (most importantly) unsubstantiated - what was that in general?
Was it really impossible to pick up the phone and dial whoever you need? Who do you need - I mean Putin. It was as if he did not communicate with Poroshenko, for the rest he is always in full access. He even communicates with Zelensky. Surely the situation could be clarified and sorted out.
Instead, Alexander Grigorievich
a tank
rode on his reputation for some reason in the eyes of the Russians. He gave us all a dose of love and adoration. Okay, we didn't listen to / watch that, not for the first time and certainly not for the last.
But let's be serious, dear.
These nonsense about three dozen or three hundred people in camouflage in a country where power structures number more than 70 thousand people - it's about nothing. And we all know that this is not how it is done.
If it was possible to shout to Alexander Grigorievich, then it would be possible to tell him that instead of 33 fighters-mercenary terrorists it would be much more effective to send 33 specialists in actions of a different nature. In civilian clothes, one at a time. Drunk and anxious so as not to stand out.
And it would be not specialists in "hot spots", which are not needed here at all, but specialists in ... let's say, in "large cultural events" such as "Maidan". And in a month, these 30 people, who, by the way, would not even have to come to the territory of Belarus (Shariy won Ukraine is calmly screwing up Ukraine from the Netherlands), but from places of permanent residence they would easily cope. And only then, when the audience is already ready to hold an event of the "Maidan" type, then you can send the conductors with cookies.
But not before.
And before, just tons of compromising evidence, often even truthful, would have been poured into the same social networks, since Alexander Grigorievich is working hard to denigrate the bright appearance of the democratic president of a democratic republic.
Yes, by the way, it would be quite possible to use those very "Russian hackers" who do not exist, but who can hack anything you like and put it on public display.
I am sure that under these dirty rags the image of a tough business executive would collapse and be buried.
And then yes, the PR specialists who arrived on time would have gone to work. And they would fix the brains of the audience, slowly but very surely.
And only then friendly handshakes of "little green men" and army comrades from the army of the Republic of Belarus. No blood, no gunfights. Fraternization, understanding and so on.
It is not for nothing that Lukashenka today spat on any electorate and communicates only with the security forces. Oh, not in vain ...
But none of the things I have listed are happening in Belarus today. Just because nobody needs it. And there is absolutely no sense in such events. Do you know why?
Because Aleksandr Grigorievich himself is doing a very good job of overthrowing President Lukashenko. Completely without outside help, because, whatever one may say, but a dictator who has been sitting on the throne for 26 years is at least a strong and intelligent person. But not lately.
These are his speeches: "Russia is making excuses", "The Russians have their tail between their legs", "Our older brothers have fallen silent", "An attempt to organize a massacre in the center of Minsk is already obvious", "Stop lying… in the media! Stop it! You have already disgraced yourself! "," Do not blow up the situation, for it will blaze so that it will be difficult to get to Vladivostok! "
And finally: "Russia has exchanged fraternal relations for partnerships and did it in vain."
Do you see the adequacy here? Personally, I am not. I do not see.
To my great regret, I see only an incomprehensible hysteria in the search for some external enemy that threatens Belarus. And here I really want to remember the old anecdote about the Elusive Joe. It will be just right.
Politics is one of the greatest arts of our time. A politician, especially a high-level politician, is simply obliged to think over every letter of his speeches. Today, Alexander Grigorievich, who even at the best of times was carried away not like a child, turns out quite sadly.
I won't say that Lukashenka is a dependent person. He is completely independent, moreover, he categorically does not want to be someone's puppet. Even if he is the president of a country that is in the end of the first hundred out of two in terms of economic development. And the penultimate country in Europe at this level.
But Lukashenka has ruled this country for 26 years with all the ensuing consequences. And the consequences are such that milk rivers with jelly banks still do not flow there.
And how many strong falls and not very strong ups ... But what keeps Lukashenka on the throne? Administrative resource and unbridled distortion of reality? Maybe. A reliable partner-brotherly shoulder of Russia? Definitely.
Leverage, I would say, is not a very accurate comparison. Rather, a well from which you can constantly draw. But a well is such a thing, unrequited. Therefore, you can spit into it, throw garbage and so on.
But with Russia it may not work out that way. And the moment when the Russian Federation will really become for Belarus not a brotherly, but a partner country, this moment will become fatal for the politician Lukashenka.
And, apparently, this moment is not far off. Alexander Grigorievich, who was clearly sitting on the throne, is no longer aware of who is actually his friend and who is his enemy. No, Russia is also not ideal in this regard, but, nevertheless, we can distinguish it for now.
Again, well, I really want a little more power. Well, a little bit. And there the heir to the throne will grow up, apparently ... But the trouble is, there is no one to blame the threat on, there is no one to call the people to fight with. Only Russia remained. And therefore, Alexander Grigorievich is already beginning to throw words even in our direction, because there are arrests of those who want to take his place, as in the very Soviet times, which we still remember and condemn.
All this is sad. There are many similarities.
If you read what psychologists write about suicide, you can find many parallels in Lukashenka's behavior. I specially studied several articles, I liked the psychologists Garifullin and Korovin, they have a very interesting story. But they are sure of one thing: if a person decided to commit an act of suicide (especially a man), it is very difficult to dissuade him from doing so. I emphasize - especially men.
The fact that Alexander Grigorievich is a man is beyond doubt. The fact that he decided to condemn himself as a politician is very much like that.
And there are two ways. Just two.
The first is to take a risk and try to dissuade him from a rather insane undertaking, namely, to spoil relations with Russia for the sake of another presidential term. Well, really, really, can't you just correct the results? After all, everything has already been actually done, the three main contenders are behind bars, the administrative apparatus, the security forces, everything is in full readiness.
It remains only to sit and wait for the results.
No, we will stage a comedy accusing Russia of all mortal sins.
Apparently, we really should be prepared for the worst. Besides, we will have on our hands the political corpse of President Lukashenko. And it's worth getting ready for such a scenario. If Alexander Grigorievich seriously decided to overthrow the president of his country, even taking into account the fact that he is, nothing good shines from such actions to anyone.
Except, perhaps, the Ukrainians, who are now stocking up on popcorn.