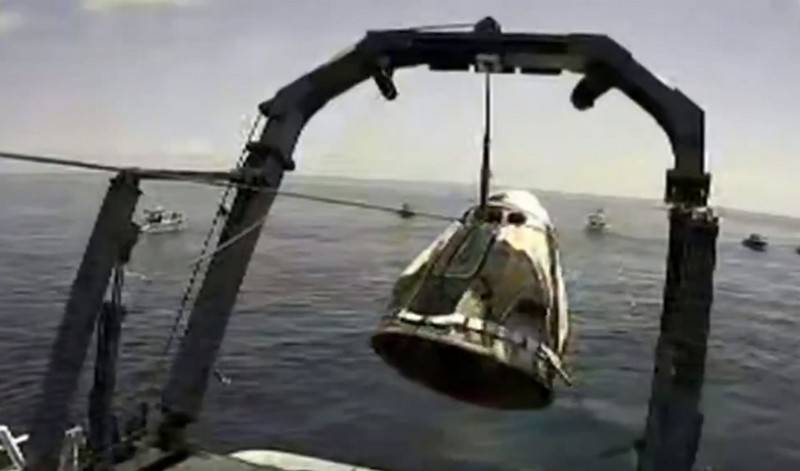 SpaceX's American manned spacecraft Crew Dragon successfully completed its first space mission, successfully splashing down in the Atlantic Ocean off the coast of Florida. The broadcast was conducted on the SpaceX website.
As previously reported by the US National Aeronautics and Space Administration (NASA), the spacecraft and the ISS undocked on August 1 at 19:34 US East Coast time (August 2 at 02:34 Moscow time). After 19 hours and 14 minutes, at 21:48 Moscow time. On August 2, 2020, as calculated, Crew Dragon touched the water off the coast of Florida. This is the first landing of an American lander in 45 years since the end of the Apollo mission in 1975.
The American astronauts Douglas Harley and Robert Behnken returned to Earth on the ship. The escape pod was lifted aboard the Go Navigator. After being removed from the capsule, the astronauts will be taken to a military base on the Florida coast, and then transported to Houston. According to the crew, they are doing well.
The docked crew congratulated US President Donald Trump on their return to Earth.
Recall that the American crewed spacecraft Crew Dragon, developed by SpaceX as part of a commercial contract with NASA, launched to the ISS on May 30, 2020 after a nine-year hiatus due to the closure of the shuttle program. As part of a manned test flight, he delivered astronauts Douglas Harley and Robert Behnken to the ISS.
NASA emphasizes that this flight is the last major test of the Crew Dragon spacecraft before its certification. After receiving the certificate, he will be able to carry out regular commercial manned flights to the ISS.