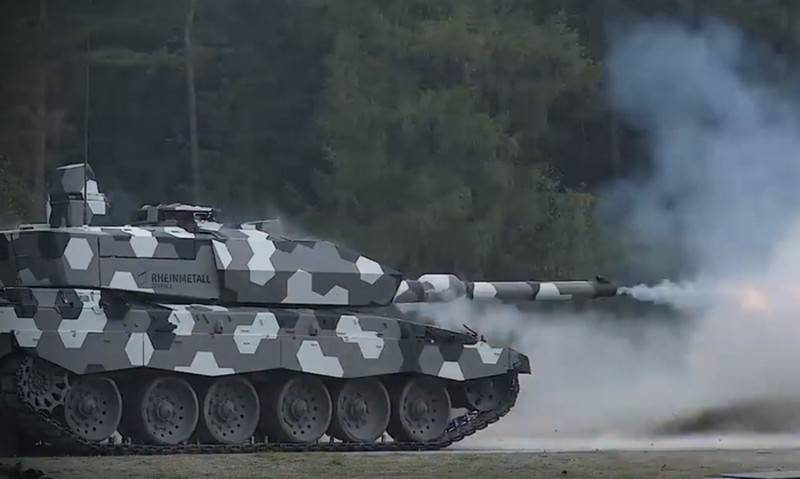 Rheinmetall Weapons and Ammunition (division of the German group Rheinmetall) conducted fire tests of a new
tank
the Next Generation (NG) 130 cannon installed on the upgraded Challenger 2 tank.
The 130mm gun has a 51 caliber barrel (L51) and uses new high-strength steel and a chrome-plated barrel. Installed a vertical wedge breech and electric trigger of the shot. The gun has an increased volume of the chamber, which allows the use of an increased charge to obtain a higher initial velocity of the projectile and its armor penetration. The gun has a heat-insulating casing and a barrel bending control system.
The actual barrel length is 6,63 m, the total weight of the gun is 3 tons, including sliding mechanisms. This does not take into account the weight of the mounting elements for installation in the tower.
The first 130-mm ammunition has already been developed for the gun. According to Rheinmetall, it was an armor-piercing detachable projectile with a detachable pallet (APFSDS-T) with a semi-combustible shell, a new high-energy powder charge belonging to the category of detonation-insensitive, and a new, improved long-length tungsten armor-piercing core with increased armor penetration.
The development of a promising 130-mm smooth-bore tank gun Next Generation (NG) 130 and the sending of the first prototype for field tests in the press service of Rheinmetall was reported in December 2019. Rheinmetall plans to offer this gun as a potential weapon for the next generation US Army Next Generation Combat Vehicle (NGCV).