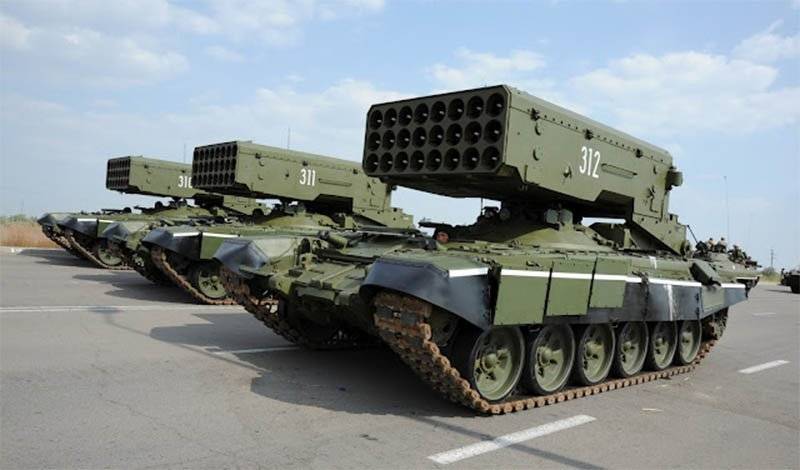 The Russian heavy flamethrower system TOS-1A "Solntsepek" is one of the five most popular Russian models of ground military equipment among foreign customers. This was announced by the general director of Rosoboronexport, Alexander Mikheev.
The day before, a demonstration of TOS-1A to potential foreign customers was held in Nizhny Tagil.
TOS-1A is a unique model for the world market, the only powerful means of fire support for short-range units in the world. Such equipment is not produced anywhere except Russia, and we proudly show it to our foreign partners. Due to its highest characteristics, TOS-1A is consistently included in the top 5 samples supplied by Rosoboronexport for the ground forces of customers
- said Mikheev, adding that the system has proven its effectiveness in battles with terrorists in the Middle East.
The TOS-1A heavy flamethrower system is in service with the Russian army and the armies of several foreign countries. Fighting vehicle at the base
tank
The T-72 has a launcher with 24 guide tubes of 220 mm caliber for launching unguided rockets with a thermobaric warhead. A full salvo is capable of destroying enemy forces in an area of ​​40 thousand square meters. The minimum firing range is 600 meters, the maximum is 6 km.
In 2017, it was announced about the modernization of TOS-1A "Solntsepek". In the course of the work carried out, the improved version received a new launcher, and the transport-loading vehicle was equipped with a modern manipulator.
The system is intended for fire support of infantry and tanks, destruction of enemy manpower, open and closed firing positions in various types of offensive and defensive combat, as well as for disabling lightly armored vehicles and vehicles.