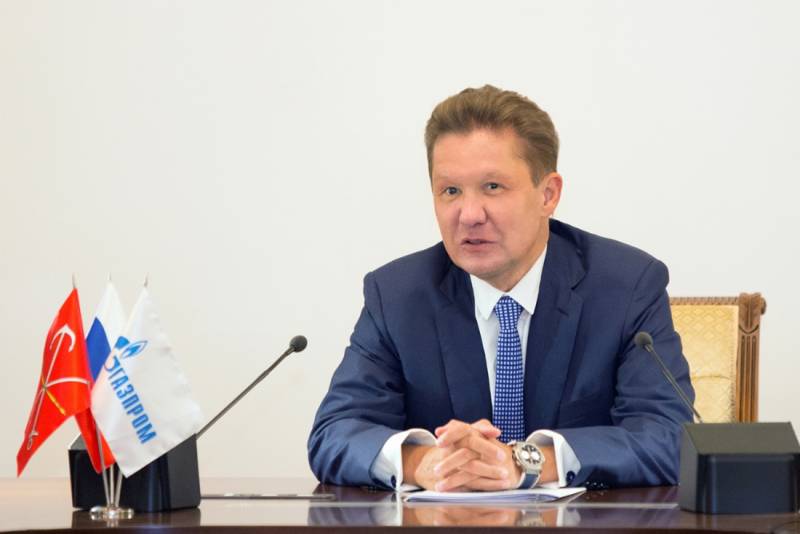 What are the benefits and interests of modern engaged media? They are capable of giving out information in such a way that everything looks like a peremog. And you start to look more attentively - it is not clear. And if you analyze it thoughtfully, it is sheer joy in the best canons and traditions of our neighbors in the West.
More than strange things made me think about what was happening with Russian pipelines.
news
immediately from the north and south. In general, in the end, looking to the east is absolutely not harmful.
The picture is strange, but very logical. And not particularly joyful for a Russian's eye.
So, I'll start from the north.
Nord Stream 2
Oh, this Denmark ... A country whose area is smaller than the territory of many regions of the same center of Russia (not even talking about large territories in the east) puts such a spoke in its wheels that you start to respect it.
It is clear that Denmark is not the biggest counterbalance to the rearing Germany, dreaming of how she (Germany) will throw off all these transit countries and start to use gas itself. Naturally, getting it with a huge (as expected) discount.
Denmark is against it. And after all, how beautifully the descendants of Hamlet put a spoke in the wheels ... Either they drowned ammunition in thousands of tons (where they got it - that's the question!), Now the cod with their spawning ... No, the spawning of cod is a necessary thing. The only strange thing is that in 2018 and 2019 the pipeline was driven without bothering with cod, but in 2020 cod turned out to be more important. And it is near the island of Bornholm.
Okay, the ammunition has been emptied, the cod will celebrate its caviar, the season of autumn storms will pass ... Or it is clear that when Baba Yaga (more precisely, Donald-not-the-drake) is against, then the combined desires of Merkel and Putin may not be enough. Cod, you know, it is sometimes more important ... and stronger.
In general, the future of the SP-2 is not so doubtful, but ... It will be pulled for a very long time. Simply because SP-2 itself is politicized to the utmost. Whatever the representatives of Germany and Russia say about the opposite, there is definitely no more politicized construction, if not in the world, then in Europe.
So all this will drag on for a long time, the only question is, at whose expense. Meanwhile, the cost of SP-2 is approaching 10 billion. It is clear that not rubles, but euros. Too much for a pipeline that is still empty in the water.
Utopia turns out in the literal sense. And if you count everything ...
However, about the accounts - at the very end.
"Turkish Stream"
The fact that Erdogan is still a "partner" has been said and written by many at one time. The author was no exception and, unfortunately, was right. The strange things happening in the south speaks with confidence that the Turkish president is allowing him to be friends with him. On certain and very favorable terms for yourself.
An excellent example is the frankly spineless and semi-treacherous sale of the S-400 to him, in all the intricacies of which NATO experts will now perfectly understand. But if it had not been for this sale, Turkey's capricious leader would not have let the pipeline be built.
And here's an interesting result for you: in 2020, Russia, the first in terms of exports to Turkey, "suddenly" dropped immediately to fifth place. Azerbaijan, Iran, Qatar and Algeria took the lead. The fact was attested by the Turkish EPDK, the state energy regulator.
He also recorded a 72% decrease in Russian gas supplies to Turkey, while LNG from the United States increased by 300%. And already "on the way" to the five leaders.
But the successes of the USA and Azerbaijan somehow do not interest us very much. But the fact that, according to the RF FTO, Gazprom's exports in the first quarter of 2020 collapsed (you can't put it another way) by 24,4%, to 46,6 billion cubic meters, is a fact. And specifically to Turkey - up to 0,2 billion cubic meters. And this, we will note, despite the introduction of the "Turkish Stream".
Yes, there is a crisis all over the world, yes, Turkey is starting to consume less gas, but ... Why Russian? Not American, not Azerbaijani, but Russian? Turkey and I are "friends-partners". How so?
And like this. Russian gas turned out to be uncompetitive. And since Turkey is a monopoly consumer of gas and Erdogan was not persuaded to transit to Europe, now Turkey can consume as much gas from Russia as it needs. Adding weight to more profitable contracts, and even twisting hands at a price, because TP has no more users.
This is not called monopoly, but monopsony. When there is one buyer and several sellers. And then such a buyer (in our case, Turkey) begins to dictate the terms in full.
Which is what happened. Gas from Gazprom turned out to be completely uncompetitive. And in Europe, by the way, things are no better. On European hubs in June, gas was quoted at $ 45 per thousand cubic meters at TTF (Netherlands) and $ 63 per thousand at Baumgarten (Austria). With the declared price of zero profitability of $ 100 per thousand cubic meters for Gazprom, taking into account the cost of production, mineral extraction tax, transportation and customs duties.
Russian gas turned out to be of no interest to Turkey. Meanwhile, the construction of the "Turkish Stream" cost Russia $ 20 billion.
Sberbank CIB analyst Alex Fack calculated in 2018 that Turkish Stream will not pay off in the next 50 years and will bring Gazprom $ 13 billion in losses. But in 2018, things didn't look so sad.
But all this pales in comparison with what is happening in the east.
"The Power of Siberia"
This is a very publicized and very expensive window dressing. Super peremog, so to speak. Compared to which "streams" are rural pipelines from village to village. Gazprom reluctantly says that the SS cost $ 55 billion, but independent experts say the amount is $ 100 billion.
If we accept that the truth is somewhere in between, then let it be $ 75 billion. And what did Russia get for this money? Nothing. A very beautiful picture, the price of which is zero. More precisely, minus $ 75 billion.
This project does not give ANYTHING on the gas market. In 2020, the pumping plan, according to Gazprom itself, was only 5 billion cubic meters. And it's not a fact that so much will be pumped, but it's not even a matter of reducing consumption in the world.
The fact is that in order to reach the promised 38 billion cubic meters per year, it takes about 10 years and a lot of money in excess of the spent. Just because the resources of one Chayandinskoye field (Yakutia, Lensky district, opened in 1983) will not be enough to provide such volumes, according to the project, it is necessary to connect the Kovykta field (Irkutsk region, discovered in 1987) to it.
Digression: I draw your attention to the fact that both deposits were discovered during the Soviet era, we continue to eat up the Soviet legacy. But the exploration was carried out crookedly, so that many wells today turned out to be "dry". With all the ensuing consequences.
So, according to the plan, it is necessary not only to put these two fields into operation, it is necessary to connect these fields with a new pipe, fill in new wells, put compressor stations all the way ...
By the way, the "path" is 900 kilometers.
And then, in 10 years, if the Chinese still need it ... The key is "if need be," because there are a lot of nuances.
But in 2018, Energy Minister Novak, reporting to the State Duma, honestly admitted that Power of Siberia is not a commercial project and we will not see any profit soon, if any.
Until then, Gazprom is lying. Moreover, since 2014, when the media of a certain nature amicably full of headlines about what a great project Russia and China will carry out. This was the first and most important lie, because China was not going to build ANYTHING.
The second was a lie that China would give $ 20-25 billion for the project. Did not give. And not because he decided to "throw", but because he did not promise a single word. Not a single hieroglyph in the contract, not a single stroke of the pen. And since he did not promise, then he did not.
This whole thing was built from the first to the last penny with the money of Russian taxpayers. This is an interstate project, isn't it? So the budget. The development of which we are engaged in by everyone who can reach it.
Accordingly, who received at least some profit from the pipeline? That's right, those who built it. Nobody needs a pipeline for taxpayer money. Specifically, according to the "SS" - all the preferences of both Mr. Timchenko and Rotenberg Sr.
Russia? Okay, let's be serious.
China at the other end of the pipe is also a monopsony buyer. Gas from Power of Siberia cannot be sold to anyone except the Chinese. Neither Mongols nor Koreans. ANYONE. The pipeline has ONE buyer, and then he will dictate his terms to the seller. And the seller will agree to these conditions, otherwise the pipeline will be empty.
It is already worth it, since Siberian gas is a backup option for China. China receives the main gas from the Pacific region in the form of LNG, which is more profitable.
And since China is reducing the volume of consumed gas, including pipe gas, here our neighbors can twist Gazprom's hands as they please. More precisely, Erdogan will be jealous.
The world's bulk of cheap gas. There is a lot of LNG in the world. And this is where interesting things turn out.
Profit is not something that is not expected, it is simply not expected, since the world is experiencing a fall in prices and a surplus of natural gas. Against this background, we suddenly have an unfinished empty Nord Stream 2, a half empty Nord Stream 1, an empty Turkish Stream, an empty Power of Siberia.
But Gazprom and Mr. Miller personally are not going to stop there. Having gone wild with SS, instead of providing the pipeline with gas and risking finding new consumers at least within the country, Miller and the company announced the construction of Power of Siberia-2! From other deposits, for example, China, through the territory of Mongolia.
Interesting, huh? China is reducing the level of gas purchases, Gazprom cannot provide even what was agreed upon, therefore it is necessary to threaten another 1,5 trillion rubles for one more pipe!
Where is the money? Oh yes, money ...
No one has got gas prices up there since August 1, no?
It's good to live and have fun in Russia. If you have the opportunity. Indeed, can we really not afford to spend another one and a half trillion miserable rubles on another pipe that nobody needs?
After all, people will work. People will make money. Good people. Millers, Rotenbergs, Timchens ...
In general, the policy of Gazprom and the state (do not forget about the state's share in this organization) is no longer even surprising. All these epoch-making construction projects, just like in Soviet times, cause a feeling of bewilderment. And the understanding that money is simply wasted on worthless PR projects that turn into empty pipes and losses.
To repay which is the lot of taxpayers.
A beautiful chain turns out. Representatives of the authorities are having fun, concluding epoch-making agreements, engaged media have fun telling all sorts of fables (like about China, which was supposed to "give money"), Gazprom has fun, placing orders for unnecessary and, moreover, not supplied with gas pipelines, playing all the games.
And the people are paying for all this disgrace. Which once again raise prices. But which once again, with shouts of "Glory!" expresses confidence in the whole matter.
Indeed, we live in interesting times ...
And what do we end up with? Calculator, your way out!
Nord Stream 2 - $ 10 billion, or 700 billion rubles.
Turkish Stream - $ 20 billion, or 1,4 trillion rubles.
Power of Siberia - $ 55 billion, or 3,85 trillion rubles.
Power of Siberia-2 - $ 21 billion, or 1,5 trillion rubles.
Total entertainment with empty pipes will cost the Russian taxpayer $ 106 billion, or 7,45 trillion rubles.
Without the slightest hope of profit. No chance of improving domestic life in the country. Simply spent, and rather mediocre.
And most importantly, there is no chance that this outrage will ever stop.
Meanwhile, it is worth considering what can happen in a gas station country if its oil and gas are not needed by anyone. Moreover, one should think about it today, until tomorrow the construction of another useless pipeline begins.