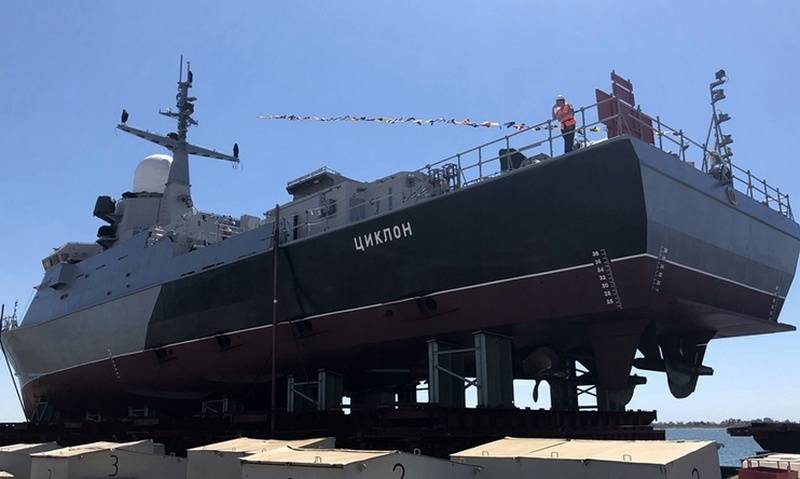 Another Project 22800 small missile ship has been launched in Crimea. As reported, the ceremony of launching the Cyclone MRK was held at the Zaliv shipyard in Kerch.
MRK "Cyclone" was laid down at Shipyard "Zaliv" in 2016. After launching the ship will be completed at the quay wall. It will be retrofitted with equipment and completed electrical work. According to the plans, at the end of the year, the Cyclone will go to Novorossiysk for sea and state tests, after which it will be transferred to the Russian Navy. RTOs will serve on the Black Sea
navy
as part of the 41st Guards Brigade of Black Sea Fleet missile ships.
According to the company, two more RTOs of project 22800 "Karakurt" will be built and launched in 2021 and 2022. We are talking about the mortgaged MRK "Askold" and "Amur". All RTOs will become part of the Black Sea Fleet.
One ship of the "Karakurt" project will be launched next year, another one in a year. The problem here is not in the factory, we get power plants through cooperation and they come in this sequence. Therefore, we rent the ships in this order
- said the head of the enterprise Igor Obrubov.
RTOs of this project have a length of 67 meters, a width of 11 meters and a draft of 4 meters. Displacement - about 800 tons, cruising range - up to 2500 miles, autonomy - 15 days. The main armament is one UKKSK (universal ship complex) 3X14 missile launcher on the 8 KR Caliber, one 76-mm AK-176MA gun mount, ZRAK Panzir-M, two 14.5-mm or 12,7-mm machine-gun mounts MTTPU.
The ships of project 22800 "Karakurt" are actually replacing in construction for the Russian Navy the MRK of project 21631 (code "Buyan-M"), of which only 12 pieces have been ordered. According to the plans of the Russian Navy, the fleet should include at least 18 MRKs of project 22800, however, the construction of ships is slowed down due to insufficient production rates for diesel engines M507.