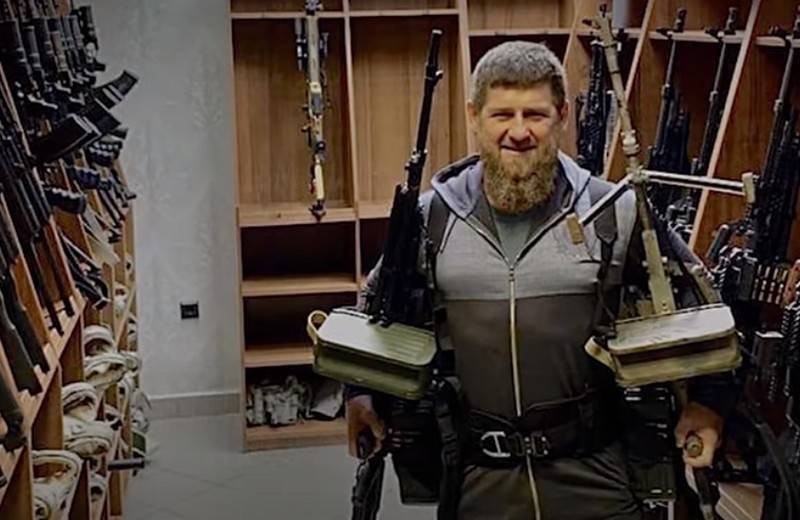 The Kremlin commented on the awarding of the head of Chechnya, Ramzan Kadyrov, the rank of Major General of the Federal Service of the National Guard. According to the press secretary of the President of the Russian Federation Dmitry Peskov, the awarding of the title has nothing to do with the imposition of US sanctions against Kadyrov and his inclusion in the American blacklist.
Peskov explained that Kadyrov, being the head of the region, independently coordinates the activities of law enforcement agencies and departments, including the Russian Guard, when appropriate situations arise, including during the fight against terrorism, showing high efficiency in this. This is connected with the assignment of the general rank to the head of Chechnya.
In this regard, such an assignment and appointment took place. You know that Kadyrov himself coordinates the actions of the security forces in the event of a terrorist threat, he has done this many times and has shown high efficiency each time. Thus, the situation was formalized
- Peskov explained to reporters.
On July 23 of this year, the head of Chechnya, Ramzan Kadyrov, announced in social networks that he had been awarded the rank of major general. At the same time, he noted that the decree on awarding the title was personally read out by Vladimir Putin during a telephone conversation, wishing him further success.
Yesterday I had the honor to accept congratulations on the assignment of the military rank of Major General personally from the President of Russia, Supreme Commander-in-Chief Vladimir Putin. I received the news of this decision, as it should be according to the charter, at attention.
- Kadyrov said.
I am grateful to Vladimir Putin for conferring a new title, as well as for everything he does for the development of our great state. I have always said and I repeat once again that I am a loyal infantryman of our president, ready to carry out his order of the highest complexity on any continent
- he added.
Note that Kadyrov was transferred from the Ministry of Internal Affairs, where he also held the rank of Major General, to the Russian Guard. For the transfer to another structure, he separately thanked the head of the Russian Guard Viktor Zolotov.