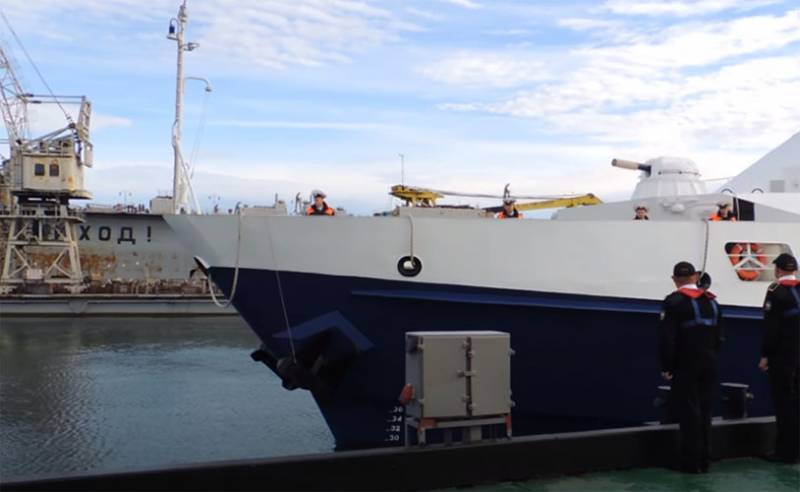 RF FSB Coast Guard patrol ship
The Ukrainian media, citing representatives of the military department, claims that Russia "staged a provocation during the Sea Breeze 2020 exercise." It should be reminded of the following: these exercises are being conducted in the Black Sea with the participation of some NATO countries, as well as Ukraine and Georgia. In particular, ships of the US Navy, Bulgaria, Romania, and Turkey are participating in the Black Sea maneuvers.
Ukrainian reporters stated that Russia "provoked" the Bulgarian warship "Baudri" during those maneuvers. According to the reports, the crew of the patrol ship of the Coast Guard of the FSB of Russia "with the demand to immediately leave the square of the maneuvers" went out on the radio to the Bulgarian ship.
From the report:
A statement was received from a Russian patrol ship that the Bulgarian ship had entered the exclusive economic zone of Russia. They stated that the area was closed and demanded the immediate withdrawal of the Bulgarian Navy ship from the area.
The Ukrainian press stated that Russia "is deliberately engaged in overlapping (overlapping) areas closed to ships with areas where NATO and its partners are conducting exercises."
At the moment, there have been no comments from the seafarers themselves regarding the data published by Ukrainian reporters.
In 2019, Ukraine said that Russia "interfered with the missile firing of Ukrainian ships."