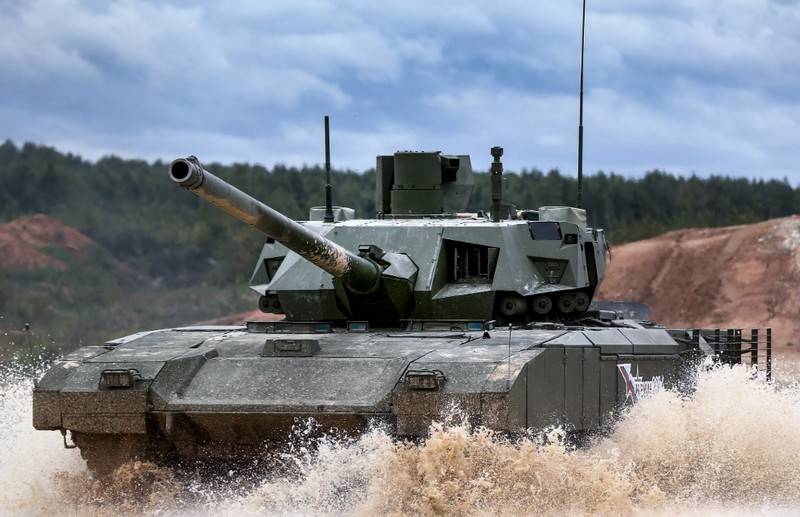 The Russian T-14 Armata tank haunts Western journalists and military experts. On the pages of newspapers and magazines with constant periodicity there are new and new articles and notes dedicated to the new "Russian
tank
". Foreign experts especially like to compare the" Armata "with the tanks of the NATO member states, which are in service at the present time. Another article on this topic appeared in the American magazine The National Interest.
The magazine once again compared the T-14 "Armata" tank with the American MBT M1 Abrams. The publication notes that the Russian T-14 Armata tank is superior to the American tank in several respects. The first is mass and speed. "Armata" weighs 49 tons and is capable of speeds up to 90 km / h, while the American tank weighs 62 tons and its speed does not exceed 55 km / h. Secondly, the caliber of the T-14 cannon is 125 mm, while the Abrams has 120 mm, moreover, the rate of fire of the Armata is higher thanks to the automatic loader, while in the Abrams the rate of fire depends on the actions of the loader. And the most important advantage of the Russian tank is the uninhabited tower and the crew in an isolated armored capsule.
It should be noted that the authors of this article did not say anything new, only repeating old publications that came out all past years in various editions. Tank T-14 "Armata" has already been compared with the American "Abrams", and with the German "Leopard" and the French "Leclerc", in general, with almost all modern tanks.
Meanwhile, the Defense Committee of the House of Commons of the British Parliament said that the main battle tank of the British Army Challenger 2 has not been modernized for a long time and therefore is significantly inferior to the Russian T-14 Armata tank.
In turn, the American magazine Forbes, relying on data from the Russian Federal Service for Military-Technical Cooperation (FSMTC), which announced that the T-14 Armata tank is being prepared for export deliveries, named potential buyers of the tank. According to the journalists of the publication, India and China will become the main buyers of the tank. In addition, interest from Algeria and Egypt is not excluded. At the same time, it is emphasized that it is unlikely that many applications for a Russian tank will come from the Middle East, since "it is too complicated and therefore problems with its operation may arise."
Recall that the Russian Armed Forces should receive 132 T-14 tanks and T-15 BMPs on the Armata platform by the end of 2021.