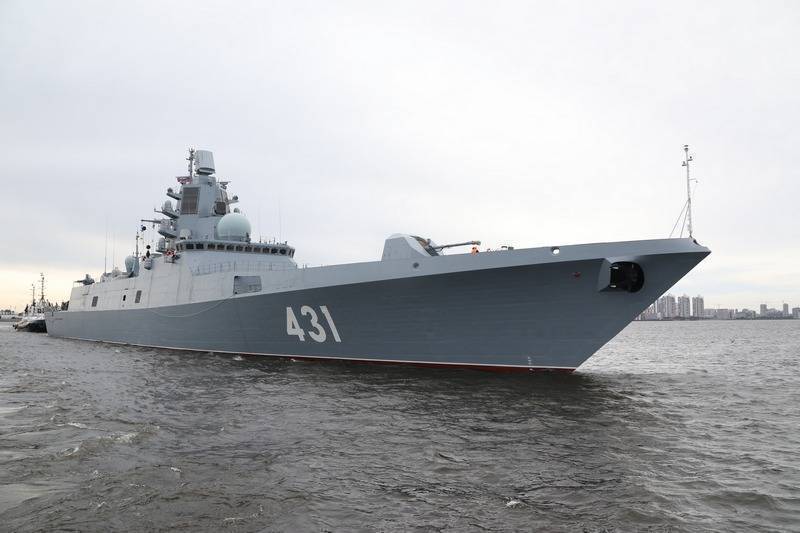 On the first serial frigate of project 22350 "Admiral Kasatonov" the St. Andrew's flag was raised. The solemn ceremony took place on the roadstead of the Neva, where the ship arrived to take part in the Main Naval Parade. This was announced by the representative of the Department of Information and Mass Communications of the Ministry of Defense for the Navy Igor Dygalo.
The frigate "Admiral Kasatonov" is officially accepted into the Russian Navy. After participating in the parade in honor of the Day of the Naval
fleet
the ship will go to the place of permanent deployment in the Northern Fleet, where the lead ship of the series, Admiral Gorshkov, also serves.
By the order of the Commander-in-Chief of the Navy, Admiral Nikolai Evmenov, the newest frigate of project 22350 "Admiral Kasatonov" was admitted to the Navy. The ceremony of accepting the ship into the composition and hoisting the Andreevsky flag on it took place on the roadstead of the Neva, where the ship came to participate in the main naval parade
- it is spoken in the message of the Ministry of Defense.
Let us remind you that the acceptance certificate of the frigate Admiral of the Fleet Kasatonov was signed at the Severnaya Verf shipyard on July 15 this year. The document was signed by Viktor Ivanov, Chairman of the State Acceptance Commission of the frigate, and Denis Tsvetkov, the responsible deliverer.
The frigate Admiral Kasatonov is the second ship of the 22350 project and the first serial after the lead frigate Admiral Gorshkov. Displacement of 5 thousand tons with a length of 135 m and a width of 16 m. The frigate is able to travel 4500 miles, while developing a speed of up to 29 knots. Autonomy of navigation is 30 days. The crew is from 170 people.
The frigate is armed with: 130-mm A-192 artillery mount, Poliment-Redoubt anti-aircraft missile system, launchers for 16 anti-ship missiles Onyx or Caliber, anti-submarine complex Package, anti-submarine helicopter Ka-27.