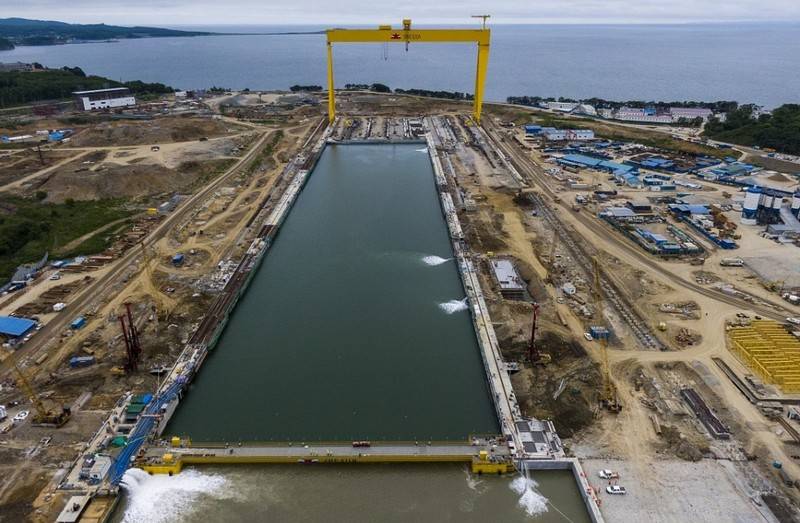 The dry dock being built at the Zvezda shipbuilding complex in Bolshoy Kamen in Primorye, for building ships, got a waterproof shutter (bootport). This was reported by the press service of the enterprise.
According to the report, the installation of a waterproof shutter 114 meters long and 12 meters high took place at the enterprise last week. The design will separate the dock chamber, the bottom of which is located below the water level, from the water area.
The hull of the batoport is made of shipbuilding high-strength steel, it has a continuous waterproof lining and is divided by decks and bulkheads into air, ballast and open compartments. The shutter includes ballast systems, drainage, ventilation systems, dry dock filling valves, as well as a local fire extinguishing system and fire alarm. The shutter is controlled from the central console or local posts if necessary. To install the shutter, the dock was flooded, and a temporary dam bridge was removed to separate the dock from the water area.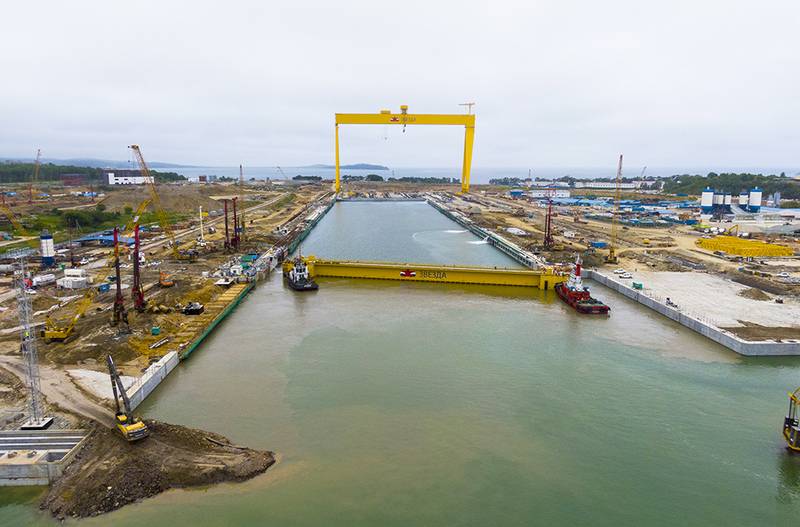 As noted, a feature of the bootport installed on the Star is the presence of a carriageway on the upper deck of the structure, which greatly simplifies the passage of vehicles to the other side of the dry dock.
The dry dock under construction itself is one of the largest structures of this type in the world. Its dimensions are 485 meters long, 114 wide and a depth of 14 meters. A Goliath-type crane with a lifting capacity of 1200 tons was installed on it, and pumping equipment was mounted. The dimensions of the dock allow you to build ships and ships without limiting the tonnage and launch weight of the hulls.
This dry dock is a key element in the second phase of the construction of the Zvezda shipyard. Its commissioning is scheduled for this year.