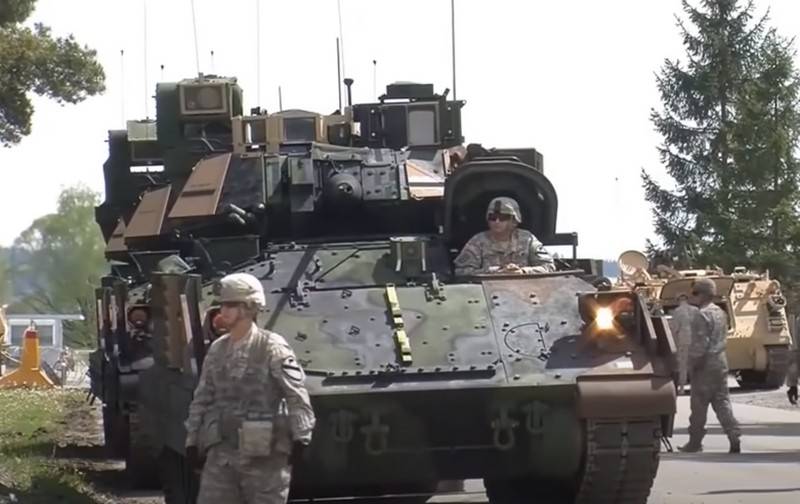 American Bradley infantry fighting vehicles in the near future will receive hybrid power plants instead of diesel ones. According to the British company BAE Systems, the company's specialists will modernize the American tracked infantry fighting vehicles, reports NPlus1.
BAE Systems has signed a contract with the US Army to create a modernized version of the Bradley combat vehicle. In the course of work on the new version, it is planned to equip the BMP instead of a diesel hybrid powerplant with electric drive wheels. According to the company, this improvement will make Bradley maneuverable, easier and more economical. In addition, the hybrid installation will eliminate the heavy hydromechanical control system and install a lighter and more reliable fly-by-wire system.
The American Bradley infantry fighting vehicle was adopted in 1981. Machine weight - about 28 tons, length - 6,6 meters, width - 3,6 meters, height - 3 meters, speed - up to 56 km / h, covered distance - up to 400 kilometers. The machine is equipped with a 903 hp Cummins VTA-600T diesel engine. The transmission of the machine is made in a single unit with the engine and has three fixed gears forward and one backward. The gear shift is automatic. Front wheel drive with pinned track engagement. Sloths with hydraulic track tensioning mechanism are located at the rear.
Details on the composition of the hybrid propulsion system have not been specified. It is also unknown when the first prototype with a new power plant will appear. The only thing that is known for certain is that after the successful completion of the prototype tests, it is planned to equip all Bradley vehicles with a hybrid propulsion system.