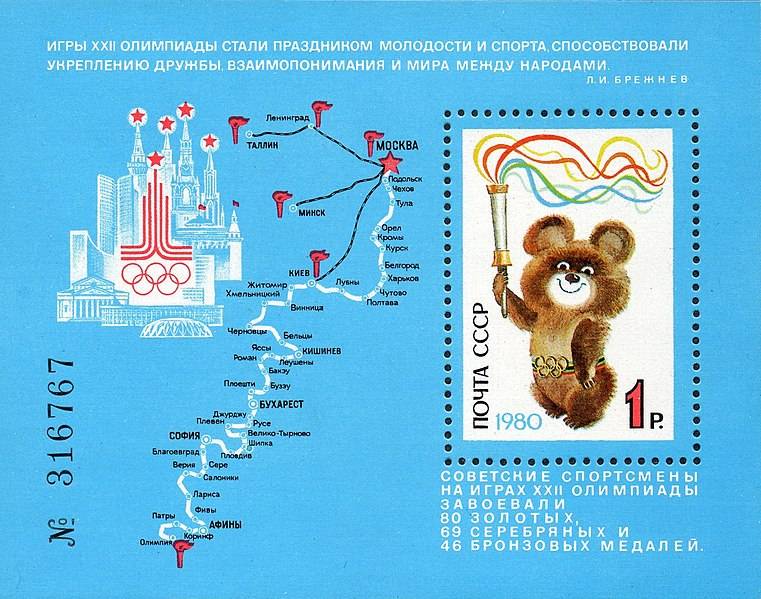 Exactly 40 years ago, the opening of the XXII Summer Olympic Games, the first games in Eastern Europe, took place in the capital of the USSR. The games were opened on July 19, 1980 by the General Secretary of the CPSU Central Committee Leonid Brezhnev. The games featured 203 sets of awards in 21 sports.
The right to light the Olympic flame was given to the outstanding Soviet basketball player, Olympic champion in 1972, two-time world champion Sergei Belov.
The main symbol and mascot of the 80 Moscow Olympics was the Olympic Bear. It was created by the remarkable Soviet artist Viktor Chizhikov. Not everyone knows, but there was another mascot at the 1980 Olympics. It was used in sailing competitions in Tallinn, a city that actually became Olympic 40 years ago. The mascot there was the Vigri seal. It is noteworthy that this was the first time in
stories
when a particular sport at the Olympics had its own mascot. The author of the seal, as a symbol of the yachtsmen's competition, was the artist Saima Symer, and the author of the name was one of the schoolchildren of the Estonian SSR.
Western countries are known to have found a reason to boycott the Olympic Games in Moscow. The formal reason was the entry of Soviet troops into Afghanistan in 1979. However, despite the boycott by the national Olympic committees of Western countries, many athletes from Western Europe took part in the 1980 Olympic Games, performing under the Olympic flags. Several examples: athletes from Denmark, France, Portugal, Italy, Great Britain, Switzerland, the Netherlands. It is noteworthy that, speaking by no means in full force, the Italian team was able to take 5th place at the Moscow Olympics, having won a total of 15 medals of various denominations. The USSR national team became the absolute leader of the medal standings, in the piggy bank of which there are 195 medals. The second and third places are taken by the teams of the GDR and Bulgaria.
The legacy of the Olympics is not only a memory of its holding, but also many objects that are actively used to this day: sports palaces, stadiums, cycle tracks, a rowing canal, television centers, large hotels and hotel complexes.
OI-1980 was closed on August 3, 1980.