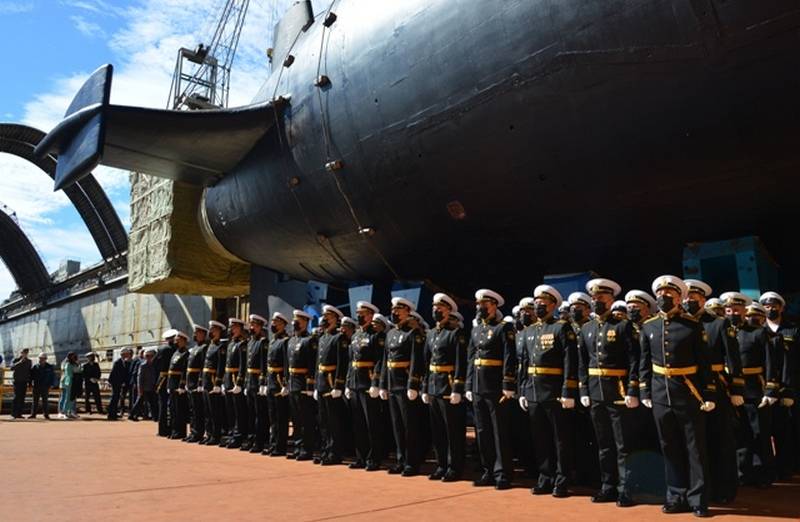 The first serial nuclear submarine strategic missile cruiser of the improved Borey-A project, Prince Oleg, was removed from the boathouse. The solemn ceremony of launching the submarine took place at the Sevmash Severodvinsk. This was reported by the press service of the enterprise.
Today, July 16, JSC "PO" Sevmash "held a solemn ceremony for the withdrawal from boathouse of a strategic missile submarine cruiser of the Borey-A project" Prince Oleg "
- said in a statement.
The solemn ceremony of laying APRCSN "Prince Oleg" was held on July 27, 2014. After launching the submarine will go to factory and state tests. The introduction of the nuclear submarine into the Russian Navy is planned before the end of this year; Prince Oleg will leave to serve in the Pacific Fleet.
Today, as part of the Russian
fleet
Three 955th-generation nuclear missile submarines of project 4 (Borey) are serving - strategic missile cruisers Yuri Dolgoruky, Alexander Nevsky and Vladimir Monomakh and one APRKSN of project 955A Borey-A Prince Vladimir.
It is assumed that after the completion of the construction of the Borey and Borey-A submarines, the Northern and Pacific fleets will receive five submarines of this project each. Missile carriers will become the basis of Russia's naval strategic nuclear forces. They carry up to 16 intercontinental ballistic missiles R-30 "Bulava-30" with a range of more than 9 thousand km and head units with a capacity of 150 ct.
The submarines of the 955 and 955А projects (Borey and Borey-A) were developed by the Central Design Bureau of the Marine Equipment Rubin. The differences between the 955 and 955А projects were not disclosed, however, it is known that the Borea-A, compared to the Boreas, modernized the hull designs, uses new electronics, and the 955A boats are better stealth.