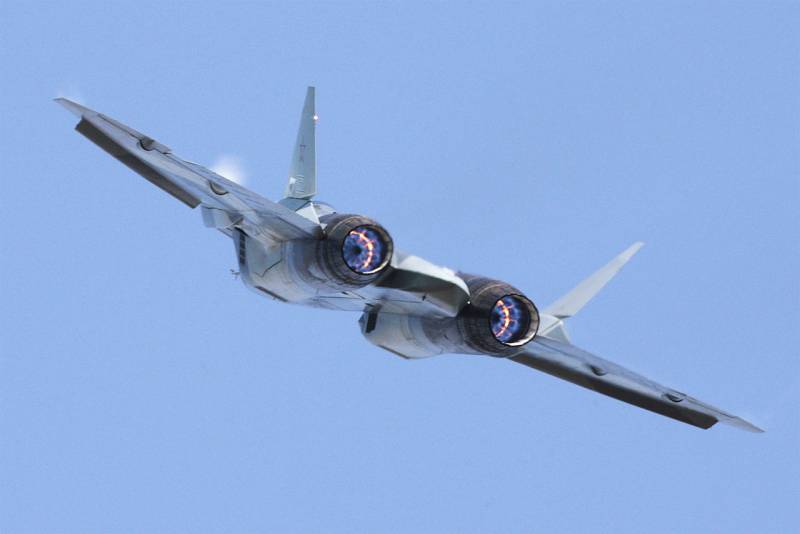 The Russian Su-57 aircraft is positioned as a fifth-generation fighter, and Russia in this regard is the third country that will put its own generation 5 fighter into service (after the United States and China). Recall that at the moment, the Ministry of Defense has contracted 76 Su-57s, and deliveries should begin this year. The first to go to the army are the Su-57 with the engines of the first stage.
One of the strengths of the new generation Russian fighter is the Himalayas electronic warfare complex. This is an integrated system in the aircraft, which actually performs the function of automated "smart" skin. It is also called the "smart" fuselage.
The Himalaya electronic warfare system itself began to be supplied for integration on the Su-57 back in 2014. During this time, the aircraft and its airborne systems have undergone significant changes in the direction of increasing functionality.
The integrated complex of electronic warfare of a fifth-generation fighter of Russian production has a unique opportunity to actually turn fifth-generation fighters of a potential enemy into generation 4 airplanes. The idea is that the Su-57 electronic warfare system minimizes the "stealth" technology implemented on other fighters. But it is precisely the "stealth" technology abroad that is positioned almost as the main element of fifth-generation fighters.
The EW system of the Su-57 does not have a single area on the fuselage. It is distributed in such a way that it allows to induce interference and protect the aircraft from missiles with homing heads in virtually all angles and projections. Elements of the EW Su-57 are placed not only on the fuselage, but also on the wings. The Himalayan electronic warfare complex, according to some reports, exceeds the effective range of air-to-air missiles in effective use radius, and therefore the missile launched by the enemy will be disoriented by the Russian fighter complex. We can say that the EW complex is able to "disarm" the American F-35 and F-22.
Earlier it was reported that the updated version of the Himalayas will be used to create new-generation Russian-made strike drones. In all likelihood, the Himalayas can also be used as the basis for the electronic security of the Okhotnik UAV.