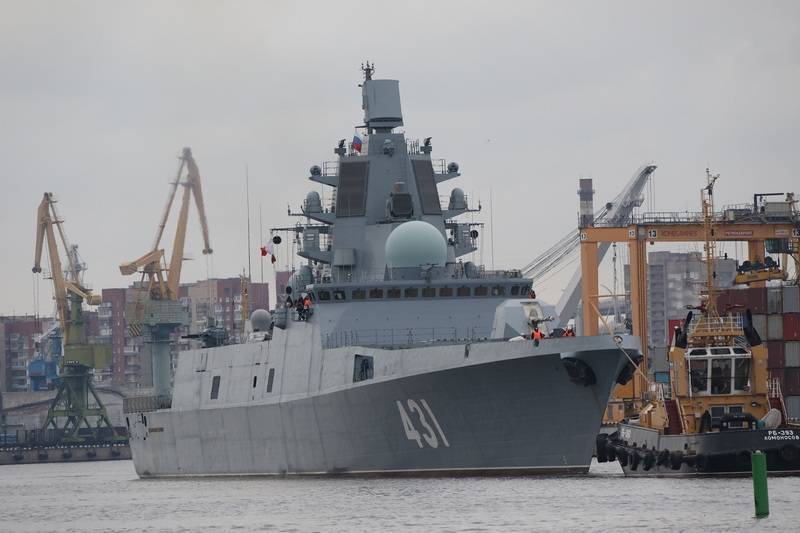 The first serial frigate of project 22350 Admiral
fleet
Kasatonov "transferred to the Navy, the acceptance certificate for the ship was signed at the shipyard" Severnaya Verf ".
Admission certificate of the frigate Admiral Kasatonov was signed at the Northern Shipyard. The document was signed by Viktor Ivanov, chairman of the State Acceptance Commission, and Denis Tsvetkov, responsible deliverer. After approval of the acceptance act by the commander-in-chief of the Navy, the frigate will be ready to raise the St. Andrew's flag.
As specified in the press service of the Severnaya Verf, after the state tests the frigate arrived at the enterprise, where preparatory work was carried out before signing the acceptance certificate on the ship. Shipyard specialists performed docking, conducted an audit, painting the premises, checked the operation of general ship systems, mechanisms and devices.
The ceremony of raising the St. Andrew's flag on the frigate is scheduled for July 21 this year. This day will be the 110th anniversary of the birth of Fleet Admiral Kasatonov Vladimir Afanasevich, in whose honor the frigate is named.
The frigate Admiral Kasatonov is the second ship of the 22350 project and the first serial after the lead frigate Admiral Gorshkov. Displacement of 5 thousand tons with a length of 135 m and a width of 16 m. The frigate is able to travel 4500 miles, while developing a speed of up to 29 knots. Autonomy of navigation is 30 days. The crew is from 170 people.
Main power plant: gas turbine engine with a total capacity of 65 thousand liters. with., diesel generators with a total capacity of 4 thousand kW.
The frigate is armed with: 130-mm A-192 artillery mount, Poliment-Redoubt anti-aircraft missile system, launchers for 16 anti-ship missiles Onyx or Caliber, anti-submarine complex Package, anti-submarine helicopter Ka-27.