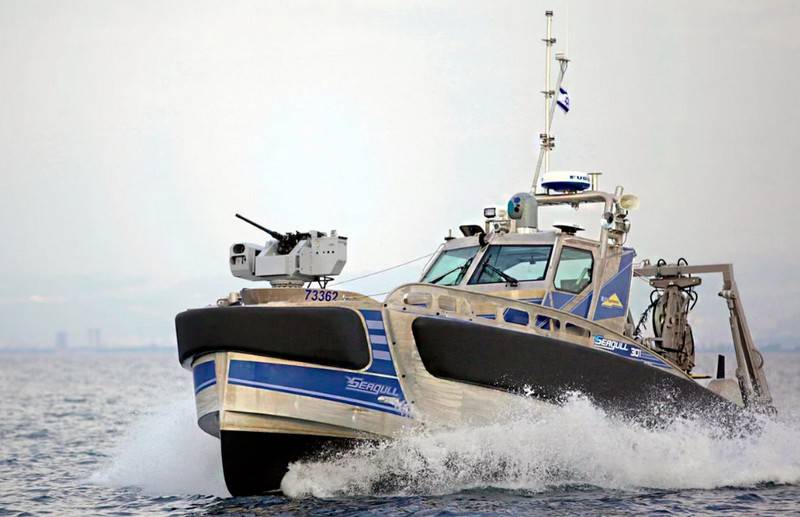 The upgraded version of the Israeli robotic boat "Seagull" developed by Elbit Systems received a reconnaissance unmanned aerial vehicle Skylark C. According to Defense News, the boat is in service with the Israeli Navy.
Israeli unmanned boat "Seagull" ("Seagull") is designed to deal with enemy submarines and to search for sea mines. It was first introduced in early 2016. The length of the boat is 12 meters. It is equipped with two engines, allowing speeds up to 32 knots. Seagull can carry payloads weighing up to 2,3 tons.
The boat is equipped with torpedoes and an electronic warfare system. It is reported that the boat is able to recognize sea mines and destroy some of them (floating on the surface or a shallow depth) using a remotely controlled 12,7 mm machine gun. On board there is also an underwater unmanned vehicle for finding mines. "Seagull" is able to work autonomously for four days, and its range is about one hundred kilometers, while one operator can control two boats at once. The maximum permissible sea waves - 7 points.
The upgraded version of the boat, which received an unmanned aerial vehicle with an ejection launch, can significantly expand the field of view. After starting the drone, the boat acts as a repeater for transmitting pictures to the operator. The Skylark C UAV itself is an aircraft-type drone with a take-off weight of 15 kg. It is able to remain in the air for up to 5 hours, and its range is 40 kilometers.