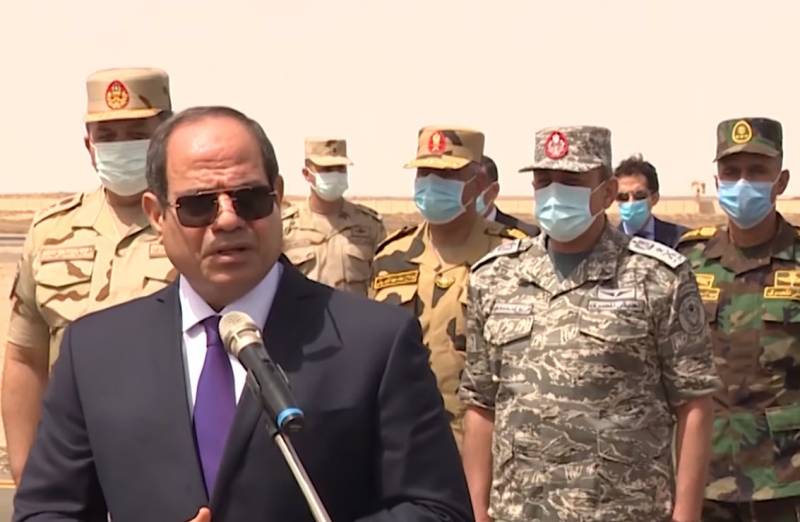 The large exercises of the Egyptian army near the border with Libya are considered by experts as a message to Recep Tayyip Erdogan, supporting the Government of National Accord (PNS), headed by Prime Minister Fayez Sarraj and military units subordinate to him. Thus, Cairo calls on the Turkish leader to a more restrained policy in Libya, making a "warning shot."
This is written by Mohammed al-Shamaa in an article published by the Arab News newspaper.
Hasm-2020 military exercises conducted by units of the Western region of Egypt. The armed forces and special forces, including paratroopers and marines, took part in them. The scenario of the maneuvers involved an invasion of the ground forces and land operations in coastal areas near the Libyan border. Counteraction to mercenaries and terrorist groups was also worked out. Artillery and air defense forces were also connected.
The exercises lasted several days. The Ministry of Defense of Egypt reported that the head of the defense department Mohammed Zaki took part in the active phase of the exercises.
General Samir Farag drew attention to the difference between these teachings and any other maneuvers of the Egyptian armed forces. Usually the military of this country is practicing a clash with the regular army of the enemy. This time they trained to counteract the mercenaries.
The general said that one of the training tasks was an attack on mercenaries with the connection of the air force. He noted that the Egyptian Air Force did an excellent job of transporting soldiers and military equipment. This means that Cairo has armed forces that can be quickly deployed anywhere in the African-Middle East macro region.
Earlier in Egypt, they announced their readiness to send troops to Libya if the PNS and its allies cross the "red line", which conditionally passes through the coastal city of Sirte.