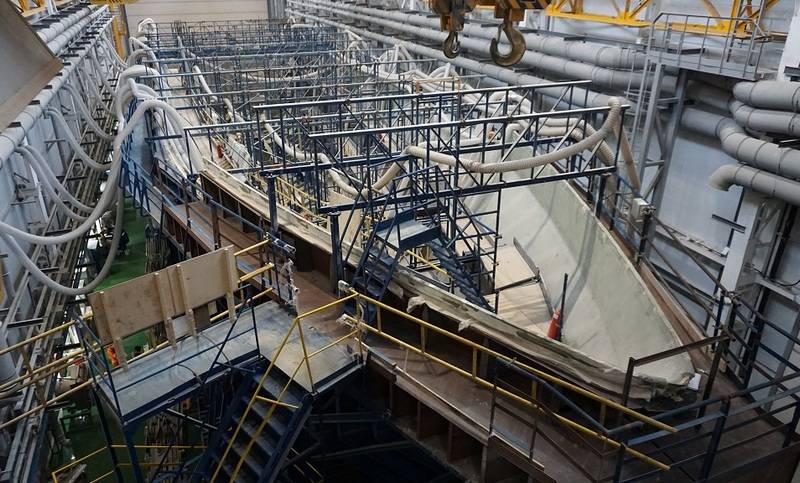 At the Sredne-Nevsky shipyard, the formation of the hull of the new Alexandrite project 12700 mine defense ship has begun. According to the press service of the enterprise, the ceremony of laying the new minesweeper will be held on July 24, 2020.
The shipbuilders of the Middle Nevsky Shipyard began forming the corps of the next minesweeper. In a hermetically mounted matrix, repeating the contours of the hull of the future ship, under the influence of negative pressure, a binder is impregnated with specially laid layers of fiberglass. The impregnation process will take about two days.
The new ship will receive the name of Lev Davydovich Chernavin, a Soviet submarine officer, rear admiral who commanded the submarine formations of the North
fleet
. The Lev Chernavin will be the eighth ship in the line of project 12700 Alexandrite, laid down at the Sredne-Nevsky Shipyard and the last, built as part of the first series. Starting from the ninth, the minesweepers of this project will be built taking into account the changes made to the project during the operation of the first ships. Most changes will affect the automation of mine action.
Minesweepers of the 12700 project are able to use the latest hydroacoustic stations located both on the ship itself and on remote-controlled and autonomous underwater vehicles, and they have an automated mine action control system. Able to use traditional and traditional weapons. The ships of the Alexandrite series have a unique hull made of monolithic fiberglass, formed by vacuum infusion.
The 12700 project was developed by the Almaz Central Marine Design Bureau for the Russian Navy. These mine defense ships have a displacement of about 890 tons, the length is 62 meters and the width of 10 meters, the crew has 44 man.