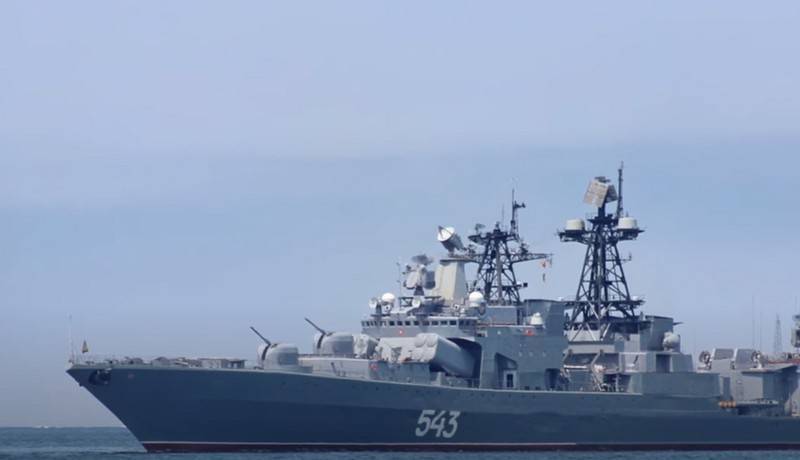 Undergoing overhaul and modernization at the Dalzavod ship repair center, the former BOD of project 1155, and now the frigate Marshal Shaposhnikov, first went to factory sea trials. This was reported by the press service of the Pacific Fleet.
According to the report, the frigate left the Dalzavod and entered the Sea of ​​Japan at the first stage of factory sea trials. At this stage, the operation of the main power plant and related equipment will be checked, after which the ship will return to the factory to continue repairs.
After checking at sea the operation of the main power plant to complete the commissioning complex, the ship will land at the Dalzavod pier
- reported in the press service
fleet
.
As specified, work on the ship are on schedule, without disruption. The Marshal Shaposhnikov is due to return to the fleet before the end of this year.
As previously reported, the former BOD of project 1155 "Marshal Shaposhnikov" in the summer of 2019 was retrained as frigate. This decision was made by the Ministry of Defense.
During the modernization, the Marshal Shaposhnikov has already installed the Uran anti-ship complex with X-35 missiles, the universal caliber, Onyx or Zircon cruise missile launcher, the Bagira fire control system for naval artillery, the ship electronic suppression complex TK-25; bow artillery mount replaced. More than 20% of the ship's superstructure were dismantled and newly manufactured, the hull was repaired, and other work was carried out.
The BOD was laid down on May 25, 1983, launched on December 27, 1984, and commissioned on December 30, 1985. In the Pacific Fleet since 1986.
Total displacement - 7480 tons, standard - 6840 tons. Length 163 meters, width 19 meters, draft 7,8 meters. Speed ​​30 knots, economical 14 knots. The crew of 220 people, including 29 officers.