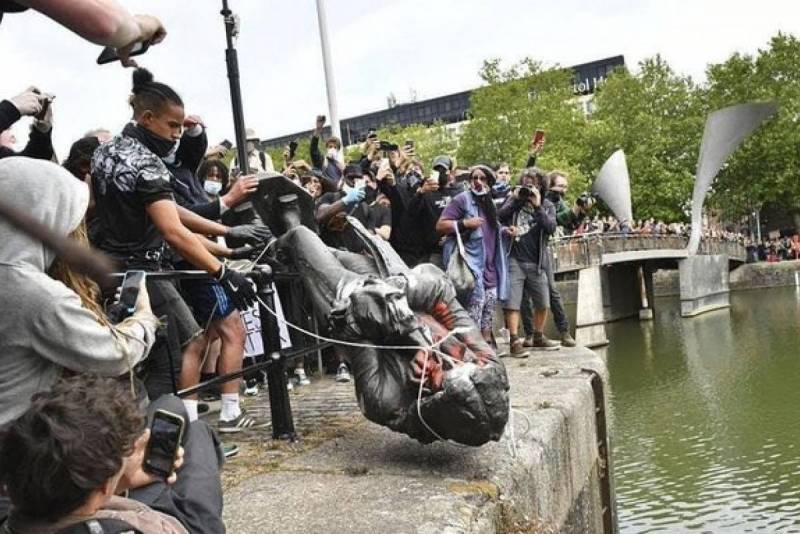 About Black Lives Matter, the American movement for the rights of blacks, only one who has not heard
News
he deliberately avoids from the world: thousands of protests, multinational companies rebranding for millions of dollars, just not to offend the feelings of the African American population, demolished statues of key personalities
stories
USA ... Everybody heard about it. Information on those who founded this movement does not stand out against this background. But in vain.
So, Patrissa Callors. Born in Los Angeles, lived in a poor neighborhood, at age 16, she realized her gender identity as a "queer" (that is, an undecided), because of which she was temporarily expelled from her home by her parents. All this did not stop her from graduating from the University of California with a degree in Religion and Philosophy. He teaches at the Otis College of Art and Design (named after the founder). Perhaps (I do not affirm), it was at the university that Comrade Kallors was imbued with Marxist views. Yes Yes exactly. According to Kallors herself, she and Alicia Garzu (co-founder of the movement) are trained and convinced Marxists.
At this point, readers who are familiar with Marxism firsthand may be able to raise an eyebrow in surprise, however, Miss Callors' logic is quite visible. There are white - oppressors, there are black - oppressed. There is a goal - a revolution that will lead to "communism" for individual categories of citizens (now oppressed), namely LGBT people and blacks (since Miss Callors herself is concerned about them and, accordingly, is concerned about them).
It is worth noting one peculiarity in the performance of "Marxism" according to Miss Callors' patterns, which, obviously, would not have dreamed of old Marx in a nightmare: the driving force of the revolution is not a working majority in the form of workers and peasants, who are behind the real production of goods and services and minorities, which by no means produce more than 20% of the US GDP, while the "oppressors" are left with 80% (the figure is taken from the approximate ratio of the number of blacks and LGBT people in the USA to the total population of the country). In other words, the goal of the founders of BLM is simple: a freebie. I would not be surprised if it was precisely this method of achieving success that the founder of BLM teaches American children in a private college, raising a new generation with "progressive" views: loudly demand freebies.
I would like to note right away that a similar BLM movement to me, a resident of faraway Russia, seems to be a spit in the face of American democracy, whatever it may be, because democracy is when everything depends on the majority opinion: how they voted, it will be so. Here ... Here, the opinion of minorities is imposed on the majority by administrative methods, and the US Democratic Party, personified by presidential candidate Biden, kneeling in memory of a serial criminal (albeit unjustly killed) for the sake of political conditions, takes an active part in the process.
So what does Putin have to do with all this?
I am very negative about some constitutional amendments signed after the vote by President Putin. For example, as an atheist, I am categorically against mentioning God in the constitution in any form, against "nullification" and against some other amendments that expand and prolong the power of Vladimir Putin. At the same time, homophobic amendments (and they are indeed homophobic, since the refusal of LGBT people to marry is an infringement of their rights regarding the rights of those citizens who wish to marry traditionally) give confidence that minority dictatorships are not yet foreseen in Russia . At least their individual categories. What interests me here is not exactly which minorities are meant - gay, radical feminists, blacks, migrants, fans of flat Earth or reptilians. As long as they quietly go about their business, I absolutely do not mind. I care about the principle itself. The principle is when administrative methods involve the majority of the minority ideology. When the interests of a minority are put above the interests of the majority. When I have to think, as if by chance not to call a Negro a Negro, and as if by chance not to look at a girl with too delighted eyes. And then they'll get fired from work.
I have some experience communicating (online) with Americans. They sincerely believe (not all, of course, but many, very many) that when Coca-Cola refuses to advertise on Facebook due to the lack of moderation of racist posts, this is their own free choice, and not a necessary measure, adopted under the pressure of public opinion in order to avoid reputational, and, consequently, financial losses. And all this is completely irrelevant to censorship. Censorship is for authoritarian regimes, and for them it is not censorship, but the protection of the feelings of oppressed groups of the population. To my sarcastic comment that then the Jews, therefore, left Germany in 38 of their own free will, they answer the sacramental: "This is different."
So, not being one of those who support Vladimir Putin (as can be seen from my other articles on the site), I, nevertheless, am terrified of what is happening in the USA, and I feel only dissatisfaction with the further strengthening of the president's personal power . The strengthening of this, in turn, taking place in the United States obviously excludes in connection with the obviously adopted conservative policy.
Considering that almost all people I know, regardless of their political convictions, have similar feelings about protests against common sense in the United States, I dare to suggest that the BLM protests added a few percent to the final result of the amendment vote. And you, readers, what do you think?