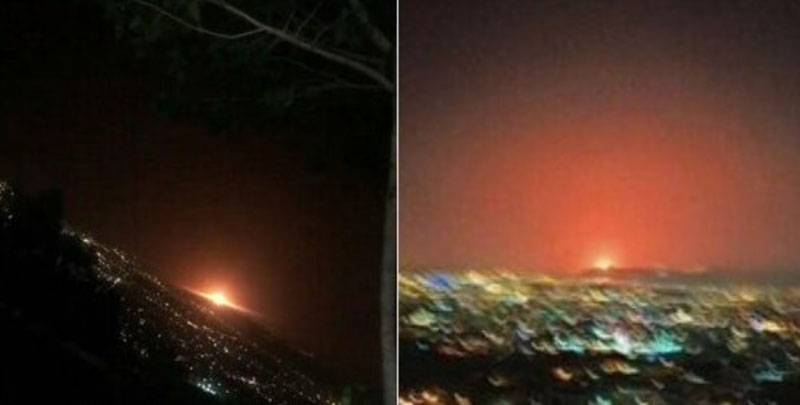 Arab News today reports an incident at an Iranian defense industry.
It is alleged that a powerful explosion occurred at the rocket factory, which "led to the appearance of a fireball observed many kilometers from the epicenter". Possible causes of the explosion are discussed.
On the pages of Arab News, it is stated that the explosion occurred about 20 km east of Tehran, at a military facility in the mountains of Alborz. The material says that the enterprise of the military industry has underground tunnels, where the parameters of various missiles, including cruise ones, are studied.
The statement by Theodore Karasik, a member of the Gulf State Analytics Analytical Council in Washington, is cited. He notes that Israel has been attempting to launch cyber attacks against Iranian industrial facilities.
T. Karasik:
The ongoing cyber war between Iran and Israel is not new. In April, Iranian cyber forces attacked Israeli infrastructure, in particular water facilities. The following month, Israeli cyber forces retaliated against Iran's military facilities and ports. They attacked the network of one of the ports of Iran, which led to a collapse.
At the same time, an article citing an unnamed source stated that the cause of the explosion could be sabotage in an Iranian factory.
But expert Karasik notes that sabotage at an Iranian missile plant is unlikely.
Expert:
The tactics of installing defective parts from the supply chain cannot be ruled out.
According to an analyst at Gulf State Analytics, the incident at a plant near Tehran could be a continuation of the "virus war" that has been going on for 10 years and which began with the use of the Stuxnet network virus.
According to U.S. intelligence, the facility in the Alborz Mountains is one of the largest industrial test centers in the Middle East.
The press speculates that the explosion at an Iranian enterprise could be the result of the actions of the American side, which decided to avenge the missile attacks of its military bases in Iraq.
Video shot in Iran:
Huge explosion east of #Tehran occurred at a gas storage facility in the "public area" of Parchin military base, # Iran's Defense Ministry says. Parchin is where western security services believe Tehran carried out nuclear testing activities in 2000s
pic.twitter.com/8jC5kfuFuD

- Bel Trew (@Beltrew) June 26, 2020
#Tehran explosion from a different angle. # Iran Defense Ministry Spox told state TV blast in a gas facility in Parchin district was the cause of flare and explosion in eastern Tehran. Abdi said there have been no casualties and situation is under control. pic.twitter.com/eE7Qj6UPN5

- Habib Abdolhossein (@HAbdolhossein) June 25, 2020