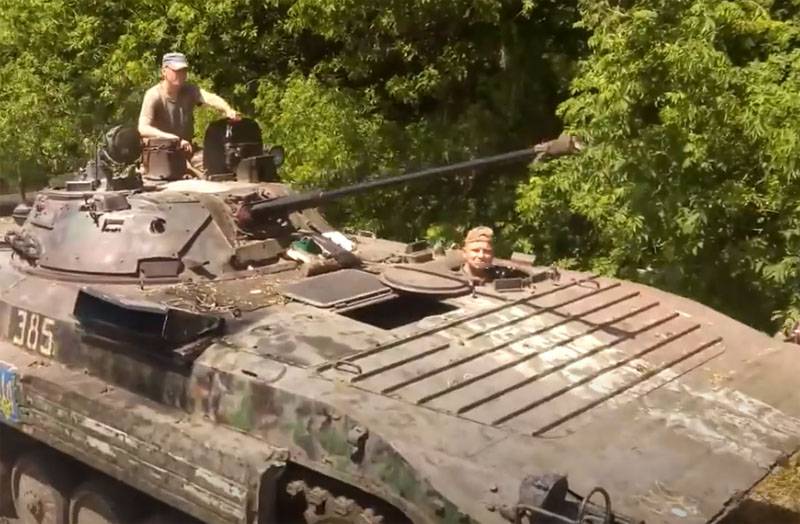 Ukrainian troops carried out a new series of shelling of the territory of the Donetsk People's Republic. On the eve of the Ukrainian security forces opened fire from various weapons on the western outskirts of Donetsk. The government of the republic reports damage to school building No. 116, located on Samarskaya Street. It is important to note that we are talking about an existing educational institution. Fortunately, the victims were avoided.
Also, as a result of mortar fire, as well as shelling from the armament of the BMP-2 APU, several houses on the western outskirts of the capital of the DNI caught fire. Due to incessant fire from the Ukrainian side, fire brigades could not begin to extinguish the fire.
In this regard, the DPR People's Police Command decided to suppress the Ukrainian firing point. As a result, return fire was fired at the AFU position, as a result of which the BMP-2 of the Armed Forces of Ukraine was hit. Two Ukrainian security officers were injured, one died.
Only the retaliatory actions of the fighters of the DPR NM allowed the Ukrainian positions to cease shelling of Donetsk. After that, the fire brigades were able to initiate actions to extinguish the fire and eliminate other consequences of the Ukrainian shelling.
The OSCE SMM once again virtually ignores the fact that the Ukrainian side is violating the ceasefire and is taking actions that directly threaten the life and health of the people of Donbass.
It became known about the decision of the DNR authorities to close the border with Ukraine.