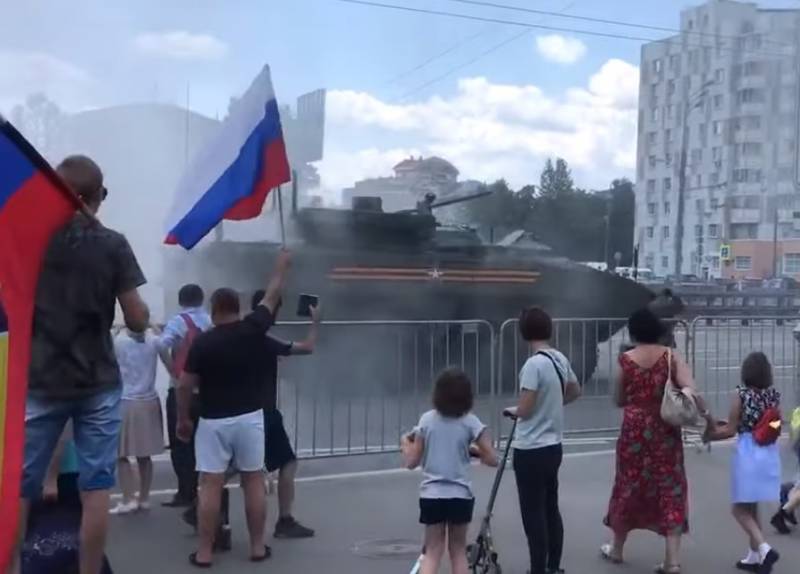 After the parade on Red Square, a column of military equipment returned to its base. Driving along Moscow streets, the latest K-17 Boomerang armored personnel carrier suddenly became smokeless. Thick white-blue smoke suddenly poured out of the car. They covered a section of the street on which spectators turned up watching the passage of equipment.
This event with the booming Bumerang armored personnel carrier sparked a discussion on the net.
The event took place in the North-Western District of Moscow. Passing the intersection of Mnevniki and Demyan Poor, Strelka, the APC suddenly began to smoke heavily. After 100-150 meters, he stopped. While the armored personnel carrier was waiting for help, the crew was nearby. Soon, a special military tow truck drove up to the problem armored car and took it in tow. It is hypothesized that an engine failure due to overheating could occur.
Military expert Alexei Khlopotov wrote on his blog about another reason why a breakdown could happen. He suggested that an emergency operation of the thermal smoke equipment (TDA), designed to create smoke screens, occurred. The expert believes that this equipment could be turned on accidentally. Also, a malfunction, for example, a loss of tightness or a break in the pipeline, could become the reason for its unexpected operation.
But if we are talking about the accidental inclusion of smoke screens, it is unlikely that in this case it would be necessary to tow an armored personnel carrier.
It is worth noting that a similar case occurred with
a tank
T-90S in Nizhny Tagil in 2003 during an arms exhibition.