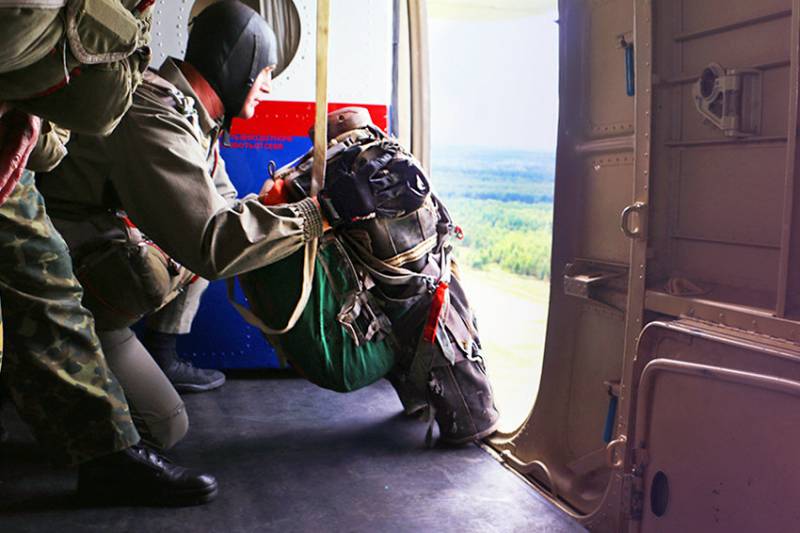 The Russian special forces and airborne units will soon receive the new parachute system "Assault" of the non-frontier type, which allows landing from a height of 70-80 meters.
About this in an interview
RIA News
said Advisor to the General Director of the holding "Technodynamics" (part of Rostec) Sergei Khursevich.
According to Khursevich, the new parachute system is currently at the factory test stage and is preparing for the state. Now the specialists of the enterprise are jumping with a new parachute, the military has not yet jumped, since the system has not yet been put into service, although tests from the military side have already been carried out.
We will do our best so that the deadlines for completing all tests before deliveries to the troops are as short as possible. The fact is that during the tests some kind of refinement may be required, which can be done in an hour, or in a month, so I can't say more specifically
- he added.
Khursevich explained that the idea of ​​a new parachute system is that the domes with free ends themselves are in the aircraft, and not behind the paratrooper's shoulders. Those. a soldier is loaded into an aircraft only in his own equipment, without a parachute, in a special safety system.
(...) if it is necessary to parachute with a parachute, then they are fastened to these systems inside the side, and if tactical landing is possible by landing method, then the military personnel do not need to tinker with parachutes, they simply do not fasten to the system and land in a landing way or on a rope
- said the adviser to the general director.
According to him, this is the only system that allows you to enter the unit immediately into the battle, and not land in the distance from the front edge for training. It allows you to drop soldiers from a height of 70-80 meters.
For our part, we note that the first tests of the new Storm assault-free landing system were announced at the end of 2016. Then it was reported that the state tests of the new parachute were planned to begin in 2018.