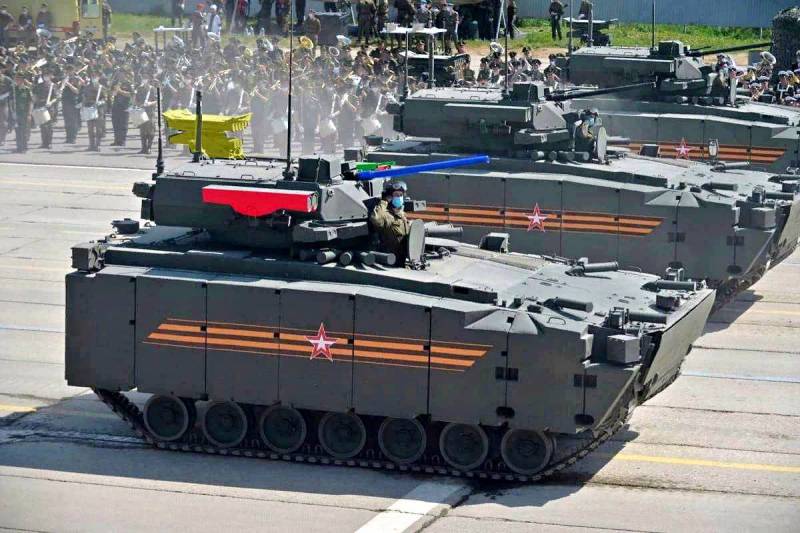 One of the military equipment that attracts attention, which viewers can see at the Victory Parade, is the Kurganets-25 BMP. A special interest in the "Kurgan-25" showed itself already at the rehearsal of the military parade. This interest is connected, including with weapons, which received the presented version of the combat vehicle.
In particular, attention is focused on the 57-mm cannon (marked in blue). Accordingly, it can be stated that in relation to the final versions of the Kurganets-25, it was decided to abandon the 30-mm automatic guns, which already by virtue of the caliber had more modest capabilities in terms of hitting targets.
In fact, the standard version of the used combat module includes a 7,62 mm machine gun (marked green in the photo).
Additionally, the combat vehicle is armed with two pairs of Kornet anti-tank guided missiles (red marks on the photo), which turns the Kurganets-25 into an effective anti-tank highly mobile and well-protected vehicle.
At the rehearsal of the Victory Day parade, something else was noticed on the latest BMP, which cannot be said about. This is the Bulat launcher with eight guided missiles (highlighted in yellow). It was previously reported that such a cartridge with missiles for promising armored vehicles will be retractable. In other words, when moving an IFV, missiles can be in the internal compartment, and can be brought out in case of need for use in battle. Such missiles are used for the so-called medium-armored purposes.
These weapons, used on the latest BMP, are actively discussed on the network, including the western segment. In particular, it is indicated that a well-thought-out approach to the weaponry of the Kurgan is clearly traced in the sense that it can act as a multifunctional weapon for hitting a wide range of targets and transferring infantry to predetermined points of a military operation.
Photo of the Ministry of Defense without marks: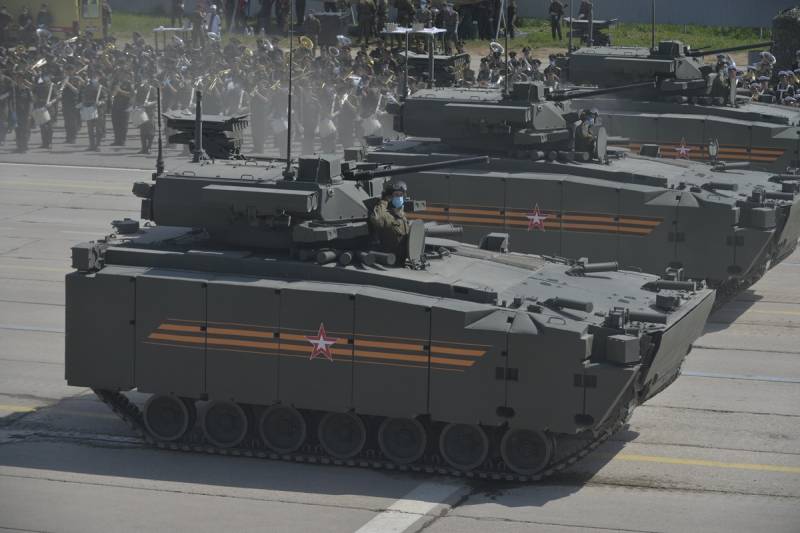 Kurganets-25 is optionally equipped with the Afganit active defense system.
Recall that the equipment considered in the material - BMP "Kurganets-25" - is undergoing state tests and is preparing to be put into service with the RF Armed Forces.