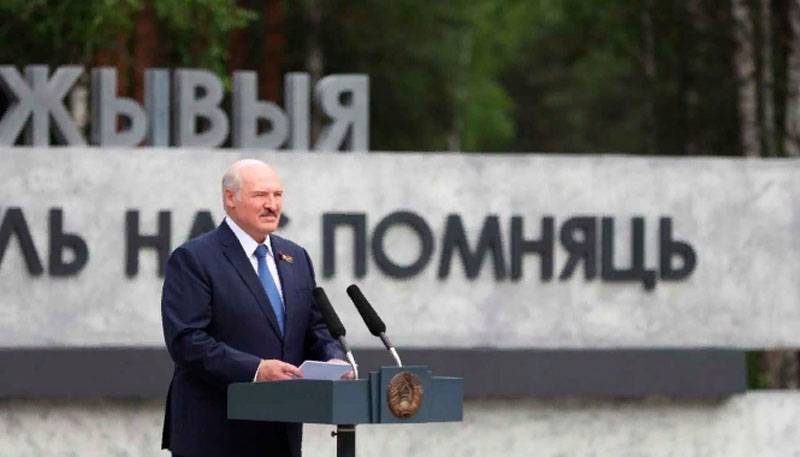 The President of the Republic of Belarus attended the opening ceremony of the memorial on the site of the village of Ola. This village during the years of World War II was burned by the Nazis. In its place in 2020 - in the year of celebrating the 75th anniversary of the Victory - a memorial appeared, which was named after the settlement burned by the invaders.
Alexander Lukashenko, speaking at the opening ceremony of the new memorial, noted that a series of events is being held in the republic in memory of the tragedy of the war and of the victory won in May 1945.
Lukashenko:
Now that the feat of our people is being questioned, we are doing everything so that those who still believe that Hitler "brought civilization to the Slavs" will learn the truth. In the eyes of the enemy, Belarusians, Ukrainians and Russians were not human. The Nazis came to our lands in order to find "human material" on the orders of the Führer, who would cultivate the fields and feed the great German nation. In the village of Ola, which became the last refuge for residents of the surrounding villages, almost two thousand people were burned, more than half of whom were children. These are twelve Khatyn!
According to Alexander Lukashenko, Belarus will never allow Nazism to raise its head on Belarusian soil, and will never betray the memory of the victors who saved the world from Nazi executioners.
According to the President of Belarus, Belarus is genuine
history
in stone today he answers those who prefer to forget the history of the Second World War or to shift the emphasis in this history.
Recall tomorrow - June 22 - a mournful date in the history of our peoples - 79 years ago, Hitlerite Germany attacked the Soviet Union. The war claimed, according to conservative estimates, about 26 million lives of Soviet citizens.