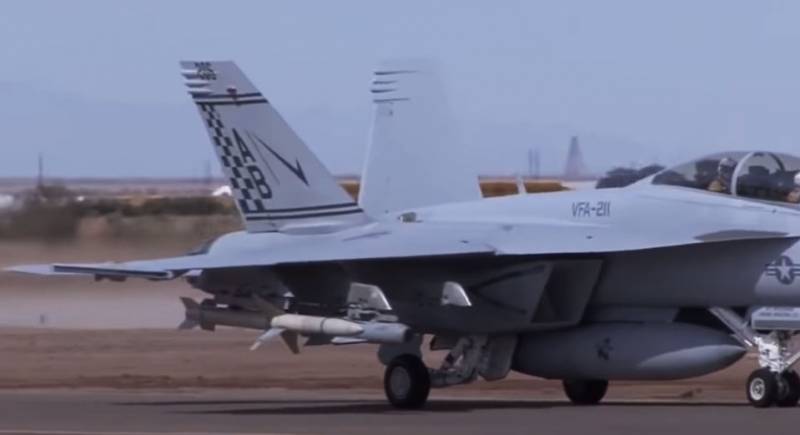 In the United States, tests of a modernized version of the AGM-88 HARM missile were tested. We are talking about a missile, which is designed to neutralize air defense systems, missile defense, the destruction of radars. The initial version of such a missile was adopted by the U.S. Army in 1983. In 2005, the development of the AGM-88E version began.
An updated version of the American rocket (the beginning of modernization is 2019) is reported to have an increased range. The initial version of the rocket had a range of up to 150 km. New version - up to 230 km.
In addition to destroying the enemy's radar, the purpose of its use is to disrupt communications, and its various types.
Modernization of the AGM-88 HARM received an updated rocket engine, which has an increased (compared to its predecessors) power, while fuel consumption is reduced by at least 9%.
Gordon Turner, Vice President of Northrop Grumman:
These tests were important for conducting a critical analysis of the project and verifying the effectiveness of the upgraded missile. The new rocket engine and warhead will provide enhanced capabilities for the detection and destruction of long-range air defense systems.
It is precisely as a tool to counter long-range air defense systems in the United States that a new version of a long-standing missile is in service. It is additionally noted that the missile can be used as a means of suppressing electronic warfare systems.
The American company reports that the updated version of the AGM-88 HARM will be used on F / A-18E, EA-18G Growler (US Navy REB carrier-based aircraft), as well as for all versions of the fifth generation F-35 fighters.
In American sources, materials appeared in which it was indicated that the missile was being modernized as "a possible option to counter the S-400 air defense system." But if we compare the range of the modernized AGM-88 HARM with the range of the 40H6 anti-aircraft missile, which the C-400 is equipped with, the Russian missile has an advantage in range of more than 150 km. This means that in order to defeat the Russian air defense system, an American aircraft will have to enter its area of ​​operation. In turn, this suggests that the modernization of the AGM-88 HARM is powerless against the S-400, since its carrier will be shot down in the event of a threat - before it can launch a rocket.