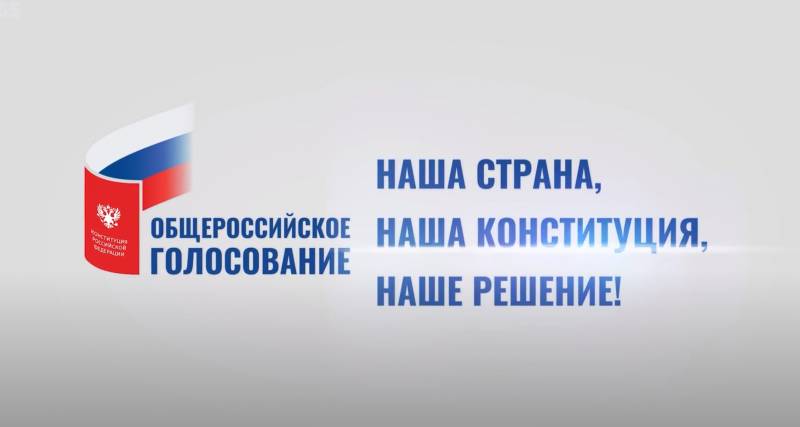 Yes, I was also surprised by such pressure from coffee grinders, irons, fences and garages, which also became agitators for voting on the package of amendments. But everything that is happening around raises new questions that I really want to voice.
Moreover, in the crowd of people who want to question, I'm not the only one.
I support those readers who have questions, and brought some of their own. And I would very much like to ask them to those who fiercely argue that if we do not accept these amendments, then in the very near future we will simply be erased from the face of the earth by LGBT legions, liberals and even anyone else. Who believes that without a vote we will definitely lose
history
(which the Ministry of Culture rewrites best of all at the expense of the budget), we forget the language and all that.
In general, the hysteria itself and the shaft of complaints of those who are forced to vote (Ms. Pamfilova does not see this shaft point blank, declaring everything is fake) for the amendments are already suggesting that everything is not so simple.
No, to come and once again vote "for" - this is just the easiest way.
And here, if not easy, then questions arise.
So, question number one.
Why wholesale? Why in bulk? Why is it impossible to divide all the issues on the agenda of changes into blocks? And for each block to put "for" or "against"?
Complicated? Come on!
People have already considered that there are not so many blocks, and there are questions in them. Check:
1. Federated structure - 51 amendments.
2. President of the Russian Federation - 19 amendments.
3. The Federal Assembly of the Russian Federation - 33 amendments.
4. The Government of the Russian Federation - 26 amendments.
5. The judiciary and the prosecutor's office - 23 amendments.
6. Local government - 12 amendments.
7. Proposals for the preamble - 9 amendments.
8. The procedure for nationwide voting and the procedure for entry into force - 33 amendments.
Only eight "ticks". Okay, nine. For pets, volunteers and more, you can also put a plus sign in the block. Against buggers and other pests such as foreign citizens rushing into power.
But why so disrespectful neglect? Who said that a Russian citizen is not able to appreciate the importance of certain amendments?
Yes, some representatives of the authorities have already explained this with a large number of blocks. Funny: does it mean that eight presidential candidates can be overpowered, but eight blocks of amendments cannot be?
Some, you know, double standards ... The argument is very weak, no one bothers to vote for blocks.
Or, as an option, is it a fear that they will vote against zeroing? Then I agree. There is cause for concern. Although it has already been announced that more than 60% of the population will come to vote, of which 70% support the change.
It is hard to say where such confidence comes from, but what I've announced, Mr. President, I repeat, in fact.
Moving on.
The second question.
To ask him, I just quote Vladimir Vladimirovich Putin.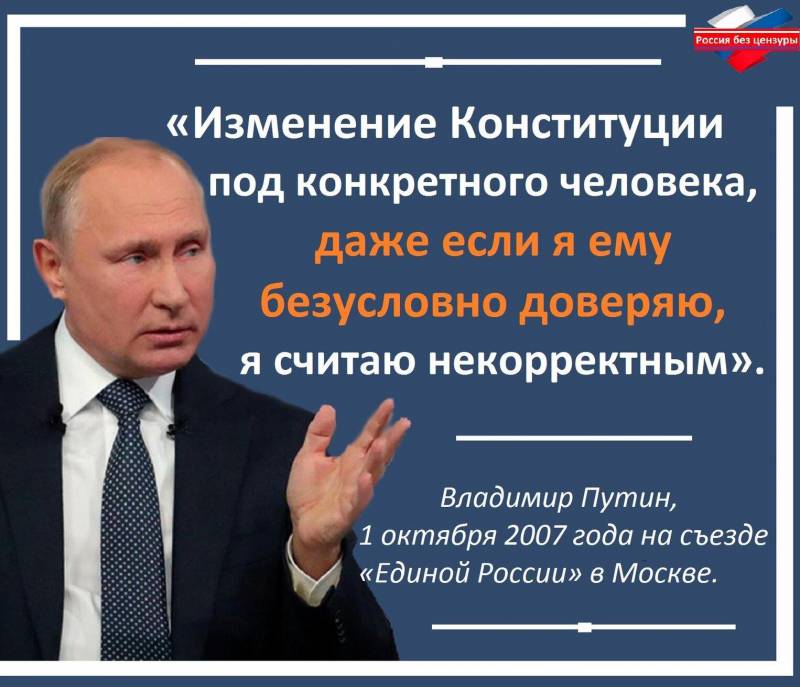 2003 "The process of amending the Constitution itself is a destabilizing factor."

2004. "We must be careful about the Constitution of our country, not allow it to be changed to the taste of those people who are currently in power. She must be treated with care. "

"... as soon as the mechanism for amending the basic law of the country is launched, it will be difficult to stop. Moreover, amendments to the Constitution may lead to an unstable situation. "

2005 "If every new head of state comes to change the Constitution for himself, then nothing will soon remain of this state." (Speech on the Straight Line.)

"Stability in the country, in society, cannot be ensured in any other way, except by the stability of the legislation and the country's main law - the Constitution. Therefore, under no circumstances do I intend to change the Constitution. " (Interview with Fox News.)

2007 "Changing the Constitution for a specific person, even if I trust him, I consider it incorrect."
Here is the last - very topical. I am sure that V.V. Putin trusts that person under whom it is now planned to amend the Constitution.
And here I have this very question: who to believe? To the one who stated this in past years, or to the one who today says that without changing the Constitution, the country will simply fall apart?
And nothing that is the same person. It is clear that a person's opinion can change over time, but not 180 degrees ...
And the last, third question.
Where are we in such a hurry?
Indeed, it's not clear what the regime is continuing to prolong, shops operate through a stump deck, cinemas and theaters are closed, stadiums and parks do not work, coffee houses, gentlemen, who took out work, are closed! They refuse parades in cities, and be kind enough to vote!
Very strange such a rush, to be honest. It would seem, well, we will defeat the coronavirus, then why not vote at least for the support of the government and the president - the winners? Very logical, right?
No, we are literally dragged by both hands. And still kick under the fifth point.
Explain to us then that the legions of pederasts are already on the border? Ready for all of us ...? And along the way to destroy the country? Or the beloved foreign enemies of Kiselev, Solovyov and others who want to enslave us and take away the wealth of the bowels of the earth, are ready for the offensive?
Well, where is such a rush from?
I'd love to know the answer to this question from the defenders ...
In the meantime, here is such an interesting thought.
The hurry with the urgent adoption of amendments, which for the most part seem to be already "working" in the laws, should provide two things.
First one. Clearly, this is "zeroing". This is the only thing that is not in the laws and for the sake of which all this is conceived. Two more terms for Putin. The argument that "there is no one else", let's leave too, in the country 146 million, and there you can not find another honest and intelligent person?
This, of course, is impossible, especially if some forces in power do not need it. And since the authorities do not need this, you can sleep peacefully, they will not find it.
Well, I generally perceive it as an insult to the Russian people. And so it is. By the way, you can see the list of people who want to try to participate in the presidential election in 2018. And there among the rejected were very interesting personalities. But alas, for various reasons, they were not given the opportunity to go to the polls. And they left those who are definitely not a competitor from the word "completely."
And the second thought is more interesting.
The Kremlin has already called the vote "a vote of confidence in Putin." That's why they are trying to provide him with fake SIM cards, and stolen data of pensioners and coercion of state employees.
But what will follow the vote?
It seems to me that on the basis of such a vote something is being prepared, before which even a pension robbery will fade. I just don't see another option of such a fierce rush.
Very quickly, despite the pandemic that caused us to be pushed into houses, they are now trying to drive us out of them with the sole purpose of voting. And the virus no longer interferes, well, the virus that scared us two months ago is not at all terrible. A rag on your face - and you're in the house. Go vote.
It seems to me that our government is preparing some kind of just a masterpiece gift to us. Something before which pension reform will simply fade. But for this, the whole world really needs to show that we all, more precisely, 70%, support what is happening.
Presidential elections only after 4 years. The elections of the Duma are closer, but their amendments hardly affect them. So why is it so hasty and urgent to accept everything?
Perhaps adoption of amendments will stop inflation? No, there is not a word about it. Perhaps the amendments will stop rising fuel prices? Yes, a liter of diesel fuel at 50 rubles and a liter of gas at 26 on 21.06.2020/2/XNUMX, that is, +XNUMX rubles compared to three weeks earlier?
Well, this, in general, is understandable, God knows what I wanted ... Like, so that our prices change in accordance with world prices, and not just up. Okay, and this amendment will not change.
So what will they change? Urgent so?
Nothing. Cats lived as cute, and will live. Volunteers as volunteers, saving huge amounts of money to the state, will be so. The Ministry of Culture as filmed libel about the war, and will remove. The Ministry of Education both disfigured school education and will continue to do so.
That is, absolutely nothing in the life of the country will not change. All these programs were not set yesterday and work successfully. And nothing will change from this vote.
So tell me, where does this urgency come from?
And so
news
day.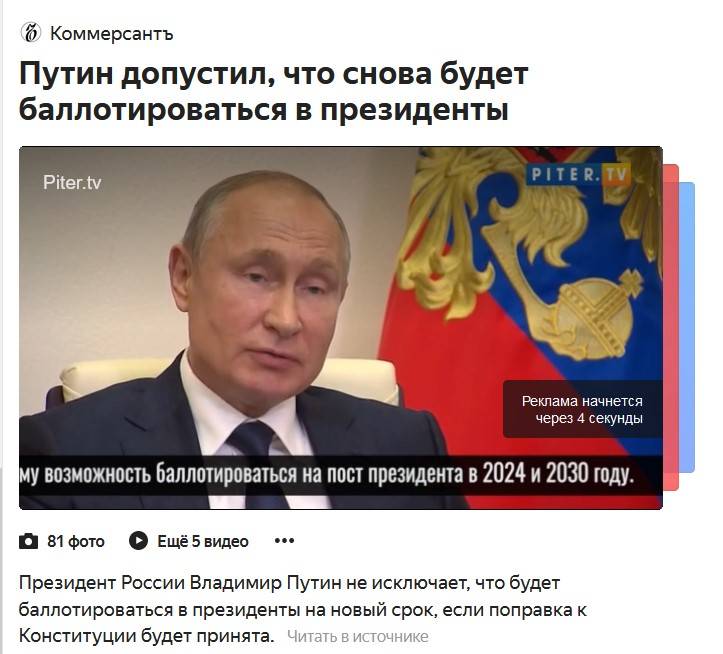 I will remember this day, and after a while we will look at the results. In general, if you look at the dynamics of past years, then it is quite possible to wait for diesel at 75 or 100 rubles per liter, gas at 50 (and why not?), Gasoline at 100. Well, then everything else will go up in price.
Why?
Yes, because that's the only way it has been all the past 20 years. And there will be as many years as they will vote. When Putin went to the "last" term, many (including myself) seriously believed that now, on the last term, when Putin is no longer dependent on anyone, the rise of Russia will begin ...
Yeah, it started. In principle, the rise in price of everything connected with Plato was the third call. And then there was the retirement curtain. And given that all the "innovations" "already work in the laws", it remains to wait for something like that, epoch-making.
Well, wait.