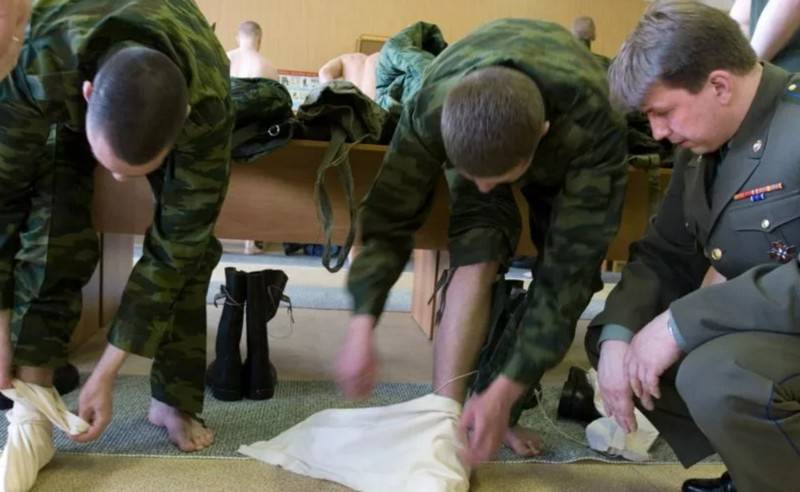 When the American and other armies of the Western countries had already used socks, Russian soldiers continued to wrap pieces of cloth around their legs. This is stated by Caleb Larson on the pages of the American publication The National Interest.
The author of an article published in an American publication writes that the Russian (Soviet) military, unlike the Western ones, used footcloths for a long time instead of socks. According to Larson, Soviet soldiers "used pieces of smelly rags instead of socks."
Instead of using resources and labor to produce socks, the Soviet army simply gave out pieces of rags
- the author writes, adding that all armies switched to boots with lacing, and the Soviet soldiers continued to wear leather boots without laces, where "these footcloths" were inserted.
At the same time, he points out that "these pieces of rags for legs" performed the same function as socks, they even had summer and winter versions - cotton for the warm season, and flannel ones for winter.
They absorbed moisture, prevented corns and scuffs, and also protected the boots themselves from dirt and stones.
- he writes.
However, Larson emphasizes, wrapping the footcloths on the leg is not as easy as it seems, their use can be compared to "applying a bandage on the leg." Incorrect winding could lead to calluses and scuffs, which in turn could lead to "lagging behind and subsequent punishment."
As follows from the text of the article, the "use of footcloths" in the Russian army was carried out for many centuries, starting from the time of the "Russian Tsar Peter I" until 2013, when the Minister of Defense of Russia Sergei Shoigu replaced "these pieces of fabric" with normal ones as part of modernization textile products. "
Thus, the author writes, the Russian army moved to modern standards, leaving "old-fashioned practice" in the past.