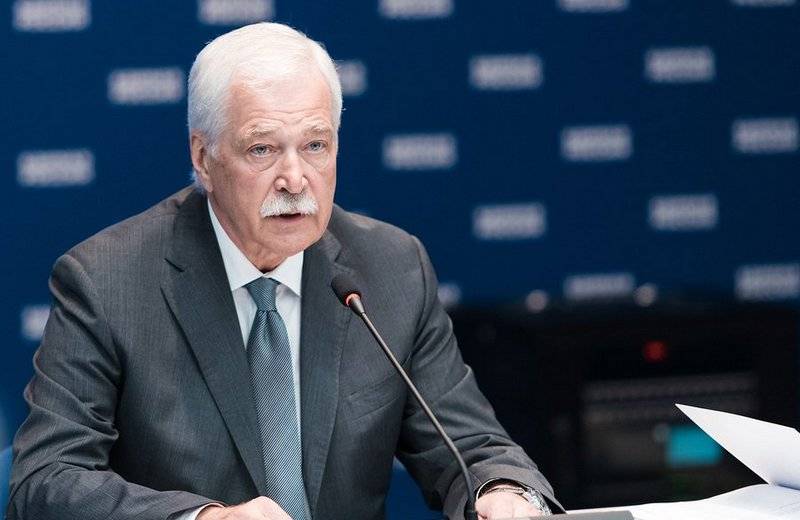 Kiev's refusal to implement the Minsk agreements is becoming increasingly real. Earlier, representatives of the Ukrainian delegation in the contact group on the Donbass at least pretended to strive to implement them, but recently, statements about the insolvency of these agreements have begun to sound more and more often.
The next statement regarding the agreements concluded between Kiev, Donetsk and Lugansk was made by the deputy head of the delegation of Ukraine in the contact group on the Donbass, Alexander Merezhko. According to him, the agreements concluded earlier in Minsk are not binding, but are advisory in nature.
The representative of Russia in the contact group, Boris Gryzlov, noted that the attitude of the Ukrainian authorities to the implementation of the Minsk Agreements has changed dramatically and if earlier they recognized the mandatory implementation, then Kiev has been evading this recently.
Merezhko said that the package of measures is advisory in nature and does not impose any obligations on Ukraine
- Gryzlov said, adding that a statement of this kind was made at the talks for the first time.
The Russian representative emphasized that the "new people" from Kiev who appeared in the negotiations "deny the legal basis of the agreements themselves," thereby "crossing out the work of their predecessors." According to Gryzlov, Kiev is trying to disrupt the "negotiation process."
The question arises - on the basis of what Kiev has been working for five years
- said Gryzlov.
Recall that Kiev appointed its own representatives to the negotiation group, not wanting to negotiate with representatives of the people's republics of Donbass. As previously reported by the Military Review, against this background, rumors about the adoption of the LPR and the DPR as part of Russia began to sound more and more often.