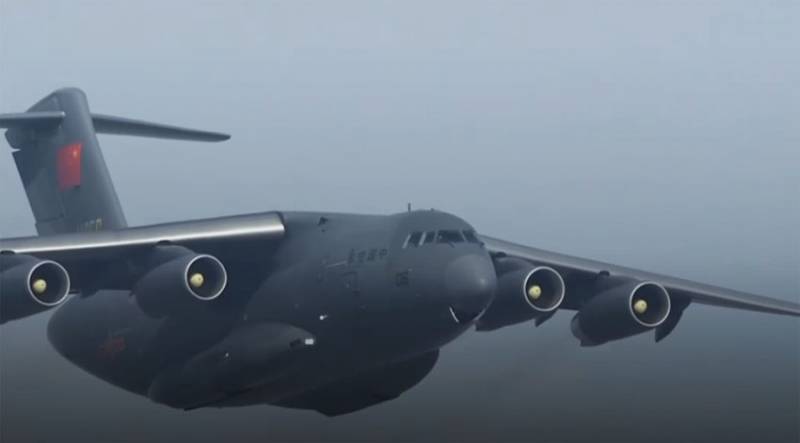 Recently, information appeared in the western blogosphere that Chinese fifth-generation J-20 fighters for the first time will fly to Moscow to participate in the airborne part of the Victory Parade. As it turns out, the Eurobloggers messed up. This is not about J-20 fighters, but the Y-20 military transport aircraft.
This plane landed at Sheremetyevo Airport last Saturday, June 13, bringing to Russia soldiers of the guard of honor - 105 people.
The Chinese Ministry of Defense notes that this is the first flight of a Y-20 transport plane from China to Moscow.
From the message of the press service of the PLA command:
The first flight of the Y-20 to Russia showed that it had revealed its potential for long missions.
The Xian Y-20 aircraft made its first flight in 2016. Earlier, China used mainly military transport aircraft of the Soviet (Russian) production - IL-76.
Y-20 crew - 3 people. The maximum take-off weight is 220 tons with a maximum payload of 66 tons. At the same time, it is not yet said in China whether the Y-20 switched to Chinese-made WS-18 engines, as indicated in the plans. Initial versions of Chinese transporters use Russian D-30-KP2 engines. The Y-20 flight range is designated as 7,8 thousand km, and with a maximum payload it does not exceed 4,5 thousand km.
The CCTV report says that flight number 20041 was sent to Moscow. This aircraft in China itself is known for having made its first flight to Wuhan after the city was quarantined on February 13.
Director of the Center for Central Asian Studies Liu Wendu:
At this special time (during the pandemic), the Chinese side sends troops to Russia to participate in the parade. This indicates China's important support for Russia and demonstrates the high level of military cooperation between the two countries.