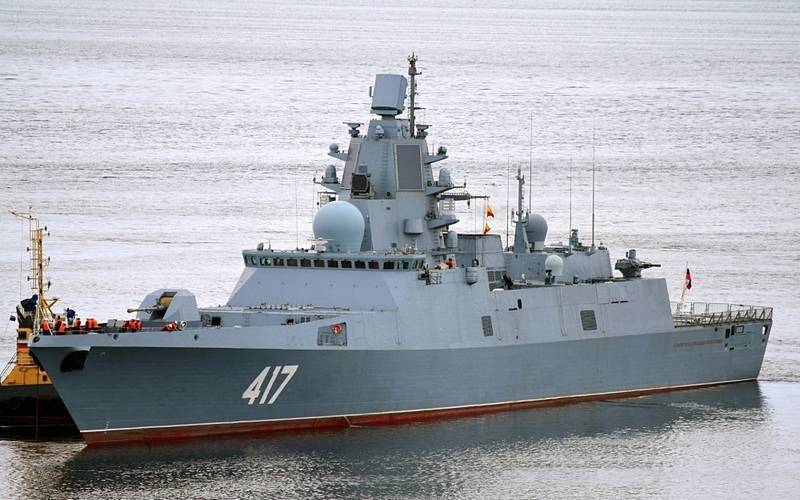 The lead ship of the frigate Admiral Gorshkov project
The laying of two more frigates of project 22350 for an improved version will occur at the Severnaya Verf shipyard in late June - early July 2020. This was reported by the press service of the enterprise with reference to a statement by the Director General of Shipyard Igor Ponomarev.
As explained by Ponomarev, the new frigates will be laid down according to the modernized project, they will be improved taking into account the operational experience of the project's lead frigate - Admiral Gorshkov.
They will be improved already for the tasks that the Ministry of Defense poses for us. From a technical point of view, these tasks are all solvable. The laying of two frigates is planned in late June - early July
- said in a statement.
Recall that the decision to lay two more frigates of project 22350 was made following the operation of the lead ship of the series - Admiral Gorshkov, serving in the North
navy
. According to available information, the number of cruise missiles on board will be increased on the ships planned for laying. Instead of 16 KR, like the first ships of the series, the new frigates will carry 24 missiles.
At present, the head frigate of project 22350 Admiral Gorshkov is serving in the Russian Navy; the first serial Admiral Kasatonov will be transferred to the fleet in early July this year. In May, the Admiral Golovko was launched, the completion of which is afloat, and the frigate Admiral Isakov, which will also be launched soon, is under construction. The two goals of the frigate of this project laid down in April 2019 - Admiral Amelko and Admiral Chichagov will be launched in two years.
Initially, they wanted to limit the series of frigates of project 22350 to four ships, but later it was decided to extend this series with the possibility of building ships of a modernized version of project 22350M, according to which it is planned to introduce at least 12 frigates in the fleet that can carry 48 missiles instead of 16 for the first ships project and 24 have an improved version.
The new project provides for the construction of a ship with a displacement of 7 thousand tons, with the deployment of up to 48 cruise missiles Caliber, Onyx or Zircon on its board. Also, the frigates will be equipped with the Poliment-Redut anti-aircraft missile system with an ammunition load of up to 100 missiles, anti-submarine and torpedo weapons. Frigates should receive a single universal automated fire control system for all types of naval weapons.